Hughies's Best Never Ashes Series
Archie Mac |
Published: 2002
Pages: 8
Author: Whimpress, Bernard
Publisher: Private
Rating: 2.5 stars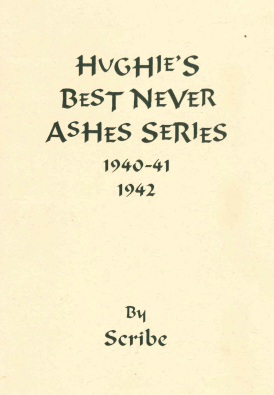 This is a strange little publication, although the idea is quite interesting. The author presents the two touring Ashes squads that he believed would have toured in 1940-41 and 1942 if the Second World War never happened.
The strange part is the proffered selector – Hughie. It seems that Hughie is in fact God who contacts Scribe to advise who the Ashes players would have been. The English squad chosen is hard to argue with and includes all the legends, Hammond, Hutton, Compton, plus sadly the two greats lost in the war in Farnes and Verity.
The Australian team appears a little light on for talent, with Victor Trumper Jnr and the little known Charlie Christ selected. Victor Trumper Jnr was perhaps a sentimental selection and Christ most likely a comical choice given the name and Hughie's supposed identity.
Given the limited space, the pen portraits of the proposed combatants are brief in the extreme and a possible chance to supply a fictitious summary of performances is missed. It may also have been of interest if the author speculated on the results of the series.
Whimpress, released a few of these short pamphlets, on various subjects, all in limited editions, this one for example had a numbered print run of 100. Hughie's Best never Ashes Series can be easily acquired for around eight pounds.