Great Achievers & Characters in Australian Cricket 
Archie Mac |
Published: 2022
Pages: 295
Author: Perry, Roland
Publisher: Penguin
Rating: 4 stars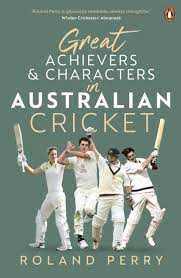 The book under review is a collection of writings from the prolific Roland Perry, who I note now, has the title of Professor, which was bestowed in 2012 from the Monash University. Perry possesses an accessible writing style, which makes all of his books a pleasure to peruse. He's one of those authors who you realise you have read 40 pages of without any effort.
In this book, Perry predominately writes about his well established favourites with a few new ones added. Bradman, Shane Warne, Steve Waugh, and Keith Miller, have all previously had biographies written by Perry. Still, Perry manages to find some new insights about his subjects. He also writes about Richie Benaud, Pat Cummins, Dennis Lillee, Bill Lawry, Lindsay Hassett, Ian Chappell, Neil Harvey and a quality short piece about Ellyse Perry (no relation to the author). My favourite pieces were those on Bill Lawry and Dennis Lillee, although this may have been due to the fact that I have read all his previous works, and Perry's takes on these subjects were unfamiliar to me.
Apart from players, Perry also tackles some other topics, with the outstanding piece in the whole book about the Aboriginal tour to the England in 1878. Perry states in his introduction to the chapter that Sir Donald Bradman admired this article when it was first published in 1999. The Don certainly had good taste.
Perry also includes one of my all time favourite anecdotes when he writes about the highly parochial Victorian Bill Lawry. It was often felt that Lawry favoured Victorian bowlers when captaining Australia. On one occasion when Lawry seemed to again be favouring 'Vics' a frustrated spectator yelled out – "hey Lawry, give Gleeson a bowl. His mother lives in Geelong". For those non Aussies, Geelong is a city of Victoria.
There was another story that I was not familiar with. Perry tells us that as the Australia team coach entered Lord's in 1948 – Ian Johnson hopped off, so he could show respect and walk through the Grace Gates. Johnson was often maligned in the press when captain of the Australian side – as the 'non playing captain' due to his lack of contributions with both bat and ball. Well, after this story from author Perry Johnson's stock has risen in my opinion.
The one minor gripe I have with Perry is the occasional tenuous comparison he makes. In this book he writes that Cummins is the Keith Miller throwback. I think this a long bow to draw. Miller was a war hero, who never captained his country and was a heavy drinking womaniser. As cricketers Miller was the far superior batsmen and unlike Cummins he was a true all-rounder. That is he could play for Australia as either batsmen or bowler as his record of seven centuries and 13 half-centuries and bowling average of 23 suggests. While Cummins, may well have been the better bowler he scored no centuries and just two half-centuries, which indicates a handy tailender at best. This is of course a tiny criticism. 
One thing I noticed with Perry is that he really looks after his readers no matter what their level of cricket history knowledge. He often explains little nuances which makes his writing accessible to both the new reader of cricket history and the seasoned cricket book reader. For instance he explains a statement made by Hassett when the little Aussie quipped that, 'another two and he's entitled to a new ball'. This was in response to Hassett finding out that a Middle Eastern ruler had 198 wives. Perry is quick to explain to his readers that the rule at the time saw a new ball available after 200 runs had been scored, instead of the current requirement which sees a new ball available after 80 overs.
This book sees Perry at his best and no doubt it will deservedly be under many a Christmas tree this year. This will definitely be appreciated by cricket fans. It retails in Australia for $35.00.