Gone to the Cricket
Martin Chandler |
Published: 1948
Pages: 206
Author: Arlott, John
Publisher: Longmans
Rating: 4 stars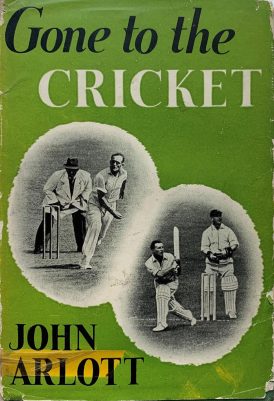 The 1950s was the high watermark of the tour book. An Ashes series could see the number published get into double figures, and even the inaugural Test tour of the Pakistanis in 1954 produced four, albeit none published in England. Business wasn't quite so brisk just after the war though, and the 1947 South African tour produced just this one*, John Arlott's second attempt at the genre.
It was of course, to steal the title of a later Arlott book, a vintage summer. The sun shone brilliantly, and Denis Compton and Bill Edrich in particular tore up the record books, so it is perhaps a surprise that nothing else was published**. It was a fine series, England conceding a first innings lead of more than 300 in the first Test before escaping with a draw, and South Africa coming within 28 runs of chasing down 451 with three wickets left to fall when their time ran out in the fifth. In between the strength of England's batting brought them three comfortable victories.
The book begins with an interesting touch, a letter penned by Arlott in April of 1947, so before any of the events he was about to describe had taken place. Against that background he concludes with a brief closing reflecting on the summer and looking forward to what proved, of course, to be another historic summer in 1948, Don Bradman's swan song.
In 1947 Arlott had not been to South Africa. He famously visited the country two years later, and what he saw appalled him, so there was no digression on anything political and Gone to the Cricket proceeds straight to the match reports, six of them involving South Africa, the five Tests and the traditional tour opener against Worcestershire.
Match reports in the 1940s catered largely for that overwhelming majority of readers who had not witnessed any of the play itself. The writing style is descriptive rather than analytical, albeit Arlott, who was never any great shakes as a player, nonetheless always demonstrated a thorough understanding of the techniques of the game. Whatever his shortcomings as a cricketer may have been he had none as writer, and his prose remains a joy to read.
Those tour books that have appeared in recent years bear little resemblance to those of yesteryear. Anyone reading a tour account today can go online and view the highlights, and would have had the opportunity to watch the action as it unfolded. They no longer need descriptions of the players or the play itself, whereas Arlott catered for a readership who might well have seen none of the play at all. So please forgive me if I produce an extended quote to demonstrate the way in which Arlott went about his business, and his description of Harold Butler, the 34 year old Notts seamer who won the first of his career tally of two Test caps in the fourth Test at Headingley:-
Butler hardly looks a pace bowler. He carries a lot of weight, not all of it, one would guess, solid. His shoulders drop steeply, his chest seems to merge with his solar plexus, His hips are heavy, and his run up is sag-kneed. His approach to the wicket is completely uninspiring, but the delivery itself is difficult to fault. He commences with a long diagonal arm-point strongly reminiscent of Tate, then, as he pounds his left foot, arm and shoulders heave right over and his body is swung from side to full on. His bowling gains all possible pace off any wicket. A man who plays half his cricket at Trent Bridge must be able to extract life from a suggestion of due, a mere flirt of rain, or hint of greenness – or else pound his heart into nought for plenty. Every possible relevant muscle is employed to the full, and if Butler sometimes bowls a little short, he makes the ball kick enough never to be easy to play so long as he is along the line of the wicked.
But what of the seventh match? Another tour match, Gents v Players, or a big Championship fixture further illustrating the remarkable record breaking summer enjoyed by Compton and Edrich? Arlott sets the scene thus:-
It is truly happy for any man who loves cricket to go away from the hub of cricket, the Tests and tourists and trials and the great grounds, to the less imposing centres where the play may be less 'important' (whatever that may mean in cricket), but has the character of the people who play it and the places where it is played.
The game is a championship fixture between Glamorgan and Worcestershire, two counties destined to finish in mid table. The location for the match was Ebbw Vale, hosting only it's second ever First Class match. The two counties played out an entertaining draw, and Arlott's account includes a visit to a rest day match played as part of the fund raising campaign of that summer's Worcestershire beneficiary, Reg Perks, an opening bowler who like Butler won two Test caps, in his case just before the war.
The match reports followed by the series averages take up the first 159 pages of the book, the remainder being occupied by pen portraits of a selection of Englishmen, and then each of the South African tourists. Not every man who played for England in the series is profiled, and indeed there are only eight men featured at all, three of whom (Maurice Tremlett, Bertie Buse and Walter Robins) did not feature in the series, so in this section of the book Arlott clearly chose only those he wanted to write about (the first two men dealt with, not unnaturally, were Compton and Edrich).
As far as the South Africans are concerned Arlott profiles all 17 tourists, including those who did not appear in the Tests. These are satisfying sources of biographical information about a number of men who have not otherwise made a mark on cricket literature, and a timely reminder that a few, most noticeably opening batsman Bruce Mitchell and skipper Alan Melville, would make excellent subjects for biographies.
After many years I have to say I much enjoyed reading Gone to the Cricket, the first of four similarly designed books from Arlott from this publisher that were to appear annually from 1948 to 1951. Looking around this one seems to be the hardest of the four to track down, but even so there are copies around, and the book is not particularly costly, particularly if a buyer is happy with a 1986 Pavilion Library reprint which, packaging it with Arlott's account of The Invincibles' series, reproduced the book in Two Summers at the Tests.
*I know Padwick lists another one, John Kay's Cuts and Glances, but only 47 of the book's 140 pages were taken up with the South African's visit.
**His first had been Indian Summer, published the previous year, and an account of the Indian tour of 1946. There was also a book on that tour published in India, LN Mathur's The Fight for the Rubber.