Golden Summers
Martin Chandler |
Published: 2020
Pages: 175
Author: Various
Publisher: Fairfield Books
Rating: 4.5 stars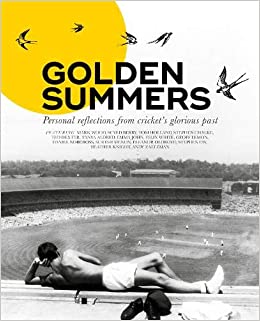 Just over a year ago I had the very great pleasure, tinged with not a little sadness, of reading and reviewing Stephen Chalke's Through The Remembered Gate, a splendid book that served the dual purpose of being at the same time an autobiography and a history of the Fairfield imprint that has contributed so much to cricket literature over the last quarter of a century.
The disappointment was, of course, that the book, so I believed, was intended to mark the retirement of both author and publisher. Which just goes to show that you shouldn't believe everything you read as our reviews in 2021 begin with a new book from Fairfield, to go with one from Stephen Chalke!
The mere fact that the Fairfield imprint continues is of course excellent news, as is the fact that Stephen Chalke remains involved, sat in the background charged with ensuring that his creation continues in his own image – at least that is what I fondly imagine to be the case, although it probably isn't. Fairfield's new owners are TriNorth Limited, the publishers responsible for The Nightwatchman and Wisden Cricket Monthly, so the responsibility for the continuation of the quality that Fairfield's name has come to guarantee was always going to be in safe hands anyway.
So what has the 'new' Fairfield opened up with? It has taken a leaf out of the back catalogue and produced an anthology comprising a series of themed articles that have previously appeared either in Wisden Cricket Monthly or its predecessor, All Out Cricket. Stephen gathered together a series of pieces called The Way It Was, and here we have Golden Summers.
The premise is simple enough. Fifty writers, generally but by no means always of the sporting journalist variety, get to write about a favourite summer, and other than that there has to be some sort of connection to cricket that seems to be the only rule. Unsurprisingly the majority of writers choose a relatively recent year, although no two write about the same one. The furthest back in history is Robert Winder's look at 1934. Winder wasn't there of course, but Henry Blofeld and the late Stephen Fay write of their childhood memories of, respectively, the vintage summer of 1947 and the visit of Bradman's Invincibles in 1948.
Inevitably, and entirely appropriately, one of the best of the essays is from Stephen Chalke, who chooses to go back more than half a century to 1966, a year when the UK summer was dominated by two sporting events. The one that is most often remembered does not get a mention, whilst Stephen records his memories of the other, a visit from Garry Sobers and a supporting cast. Stephen's conclusion on the subject of Sobers in 1966, with which I find myself wholeheartedly agreeing is; He is the supreme cricketer of my lifetime, and that was his greatest summer.
Another example of a writer concentrating on one man comes from the cricket correspondent of the Daily Mirror, Dean Wilson. There are very few England supporters who can, hand on heart, admit to not having spent a goodly part of the man's career enjoying the batting of Kevin Pietersen, and 2008 was the year he first unfurled his switch hit. Wilson's piece, cleverly titled The Man Who Fell To Earth, once again sums up superbly the appeal of one man.
Not all of the contributors choose to look at the game at the highest level, and there is a fascinating digression by Eleanor Oldroyd on the subject of 1987 when she spent the summer on the road as a reporter with BBC Radio Shropshire, concentrating on following the county's fortunes in the Minor Counties Championship.
With fifty separate essays it would not be possible to contain this review within the bounds of a reasonable length if I were to introduce each and every one, but to give a further illustration of the sort of subjects a reader is going to encounter I shall single out three more for mention. The first is from a man who has retired far too early and, I hope, has done so only because he finds the prospect of freelancing appealing, Vic Marks. Looking at the long hot summer of 1976 with its droughts, parched outfields and non-grovelling West Indians Marks, captained at Somerset by Brian Close and a teammate of Vivian Richards, produces a fascinating memoir of a memorable year.
Childhood memories are amongst most people's favourites, and as we all know the passage of time tends to bring out the rose tinted spectacles. I dare say there is a bit of that in the scribblings of Fay and Blofeld that I have already referred to, but perhaps not in the contribution by Jon Hotten that looks at 1977. Old enough to relish the prospect of seeing Geoffrey Boycott's return to England's colours, but too young to be able to have any memories of his acquiring the reputation that he had Hotten's The Return of the Bespectacled Mutineer is a vivid reminder of how the Ashes were regained in the summer of the Queen's Silver Jubilee.
And finally, how could such a book be complete without a glimpse back at what there was of 2020, and that is done with great aplomb by Scyld Berry, whose The Season Unlike Any Other serves to underline two irrefutable truths of the game of cricket. The first is that county cricket is a wonderful thing that needs to be cherished and preserved at all costs, and the second that whilst they occasionally have done so it is most certainly not a pre-requisite for being a great cricket writer to have played the game at the highest levels.
Fairfield Books may be under new management, but it seems only to have been the faces that have changed. The quality writing is still there as is the well produced and well illustrated finished product. There may be a few out there who have all of these essays in a different format and wonder therefore they really need to buy Golden Summers, but even for them this collection is going to be a pleasure to read, and is highly recommended.