Golden Minnows in the World Cup 2019
Martin Chandler |
Published: 2019
Pages: 48
Author: Marlar, Robin
Publisher: Sussex Cricket Museum
Rating: 4 stars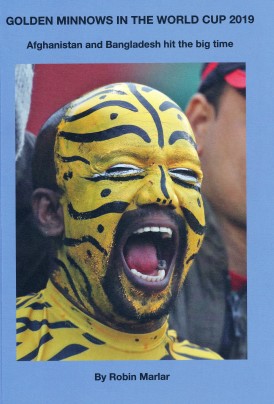 The connection between the subject matter of this slim limited edition booklet and Sussex cricket is, for once, a little tenuous. In reality it is limited to two things, first the author, and secondly a rather special young cricketer, Rashid Khan.
Robin Marlar led Sussex for the second half of the 1950s. In the manner of the times he was an amateur, but unlike some of his ilk Marlar was a good player, an off spinner who in a different era, without so much top class competition, would probably have played for England. Marlar was also a journalist, writing first for the Daily Telegraph and then the Sunday Times. He has also served as President of Sussex and the MCC, and more recently has been a great supporter of the Sussex Cricket Museum.
More important, for the purpose of this booklet, is Marlar's involvement at different times in establishing the game in both of the 'minnows' he writes about, Bangladesh and Afghanistan. Progress has, of course, been rather more rapid in the latter, and the aforesaid Rashid Khan, the Afghans' finest bowler, played for Sussex in last season's Vitality Blast with considerable success. Marlar has plenty to say about the development of the game in both countries, and some interesting technical concerns about the likely longevity of Khan's bowling.
Marlar's writing has always had an interesting style and a description of it as trenchant would certainly not be out of place. That said there is always a rationale, clearly explained in a way that leaves his reader in no doubt as to his standpoint.
I expect there to be considerable interest throughout the cricket world in Golden Minnows in the World Cup 2019, and clearly the Museum do as well as the print run for this one is, in relative terms, substantial at 500. The copies are all numbered and signed by Marlar and cost £15 plus postage.
Is the booklet a good read? This reviewer certainly believes so. There is some interesting political history, particularly in relation to the Bangladeshi nation to go with the account of cricketing development. In fact I have but one 'complaint', that being that its content appears in this form, rather than as a chapter in an autobiography.
For such a good writer, who has led such an interesting life, Marlar puts in very few appearances in Dewey Decimal Classification 796.358. He mentions in his introduction the three books that do carry his name, and expresses the view that disappointment in all of them put him off writing books for life. I haven't read his history of cricket, but the reprint he edited of Lillywhite's account of the 1859 tour of North America was a book I much enjoyed and even if the publisher failed to turn a profit Decision Against England is a decent account of the 1982/3 Ashes series.
In fact it sounds like an autobiography is a non starter, but surely those charged with the preservation of Sussex's cricket treasures could secure Marlar's co-operation for a biography? After all anyone with even the most basic level of ability to lip read can see that that is what the Bengal Tiger on the cover of Golden Minnows in the World Cup 2019 is calling for.