From Nightfighter to Scriptwriter
Martin Chandler |
Published: 2020
Pages: 44
Author: Musk, Stephen and Davage, Mike
Publisher: Red Rose Books
Rating: 3 stars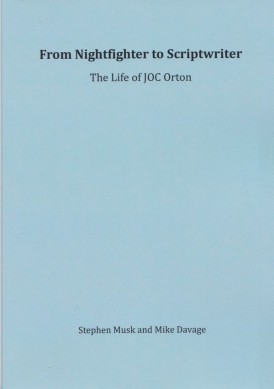 To describe this one as a cricket book is stretching a point but, after looking at the identity of the publisher and the couple of cricketing interludes that this slim paperback contains it just about qualifies. That observation apart it may be that the primary subject matter is of interest in any event, in which case it is still a worthwhile read even without the cricket references.
The joint authors are both sports historians with a particular interest in matters Norfolcian. Musk is a cricket man, and we have reviewed a couple of his monographs here and here. He has also contributed biographies of Michael Falcon, Lionel Robinson and George Raikes to the ACS Lives in Cricket series. With Davage he has additionally self-published a Who's Who of Norfolk cricket between 1826 and 1875, supplementing an earlier book from Davage on the same theme, covering 1876-2011. As for Davage those books apart his main interest seems to be canaries, by which I mean Norwich City Football Club.
So who exactly is or was the subject of this one, John Overton Cone "JOC" Orton? Born in 1889, Orton was a Londoner by birth and at 20 was commissioned into the Norfolk Regiment hence establishing the link to the county. Orton fought in the Great War as an infantryman and, in the way of the times, switching his service he also spent three years as a pilot in the fledgeling RFC/RAF before rejoining the Norfolks after the war. He was decorated in both fields and his military service is not without interest.
Once peace returned Orton ended up based in Norfolk where he remained until 1925 when he retired from the Army. At that point, aged 36, he became a screenwriter and his significant involvement in the British film industry from then on is the main part of his story.
As to the two cricketing passages the first relates to that post war period in Norfolk when Orton, whose prowess at Hockey, Rugby and Association Football as well as Tennis are all looked at played cricket to a decent standard and, just once, kept wicket for Norfolk in a Minor Counties match. It is hardly the stuff of legend, and the authors' research suggests that there may have been an element of good fortune in that solitary elevation, but it is an interesting story nonetheless.
A more eye-catching name than Orton is Bradman, and it is the legendary Australian batsman who provides the second area of cricketing interest. One of the lesser known aspects of Bradman's life outside cricket relates to his cameo appearance in a cinema film, The Flying Doctor, in 1936. The venture was the first Anglo-Australian film project and it was Orton's idea to involve 'The Don'. Sadly the film was not a commercial success, which is doubtless why its story has largely escaped the attention of Bradman's biographers.
From Nightfighter to Scriptwriter is not the only publication carrying this particular Bradman angle as, unsurprisingly, it crops up in James Merchant's splendid Business of Bradman, but a much fuller account appears here so for all those out there who will buy 'anything on Bradman' this one is needs to be on your wants list. In that respect some good news is that at a mere £7.99 including UK postage the price tag is modest, the bad that the book appears in a limited edition of just 50 copies, so it needs snapping up before those Australian collectors wade in.