Following On
Martin Chandler |
Published: 2017
Pages: 255
Author: Buttler, James
Publisher: Great Northern Books
Rating: 4 stars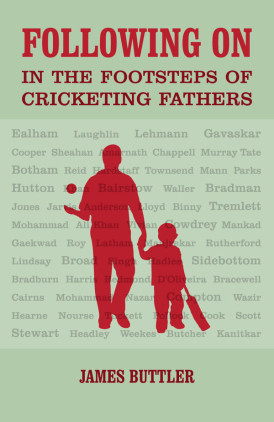 Is it in the genes? It is a subject that pundits discuss, sometimes earnestly, but usually whimsically, whenever any sportsman with talent in the family succeeds. Can there be a simple answer?  James Buttler's has clearly devoted much time to researching his subject, although I can't imagine he ever really expected to find more answers than questions.
To be fair to Buttler he dug very deep, even enlisting the help of a couple of experts; Alun Williams, Reader in Sport and Exercise Genomics at Manchester Metropolitan University and Simon Hartley, Sport Psychology Consultant. I won't claim to have fully understood everything from the experts, although they made some good points. Ultimately however I, like many others, tend to be very sceptical about anything I don't fully understand, and I remain unconvinced.
There is an interesting final chapter in which Buttler attempts to draw some conclusions, but I don't believe he got close to convincing himself, and for me his comment about Mali Richards' short and unsatisfactory cricket career sums up my view on this; It wasn't in his destiny. In truth however the absence of any convincing conclusion is neither here nor there, as the subject gives Buttler the opportunity to carry out some fascinating interviews, the result of which is an excellent read.
The very first chapter looks at one of the most famous English cricketing families, the Cowdreys. Eldest son Christopher was one of Buttler's first cricketing heroes. I must confess Christopher always interested me as well, and his thoughts on the subject were very different from those of his younger brother, Graham. The most recent incumbent of the family expectations and son of Christopher, Fabian, has different opinions again. Sadly Fabian has now, at just 24, called time on his cricket career. It was also interesting to learn something of Lord Cowdrey's middle son, Jeremy. I always knew he existed, but he had only ever been a name that figured fleetingly in the Tonbridge averages in the Public Schools section of Wisden. It turns out he was the one who made some cash, a dodgy back dictating a career in the City rather than with his brothers on the cricket field.
A chapter on 'The Bothams' contains just the briefest summary of Sir Beefy's life, and quite rightly so. No one is ever going to pick up a cricket book who does not know at least the basics of a legendary career. The majority of the chapter is then is an interview with son Liam, a man who at 18 took five wickets on his First Class debut, at which point it looked for all the world as if he had inherited his father's scriptwriter. I for one was disappointed when he chose a career in professional Rugby instead of trying to emulate the old man, although I could see the sense in his decision.
History records that Liam's Rugby career was ended by injury at 27. That makes it all the more disappointing to know that in fact cricket was his first love. A game of 'What if?' beckons, in fact two as the reader learns that, unsurprisingly, Liam's son James is an outstanding sporting talent as well. The sadder news about James is that he too has chosen the oval ball game in preference to cricket, so it seems unlikely that in my lifetime another Botham will play cricket for England.
On the other hand it is fair to say that by now Jonny Bairstow has comfortably exceeded the cricketing achievements of his father David, one of my favourite Yorkshire cricketers. The fact that 'Bluey' took his own life when Jonny was just a youngster adds a unique context to his story and it is much to his credit he was even prepared to discuss the subject. The Bairstows do however feature the one slightly puzzling omission in the book. Perhaps Jonny's half brother Andrew, who played briefly for Derbyshire back in the 1990s, simply wasn't prepared to speak to Buttler, but the fact that he doesn't even get a mention is certainly curious.
For the Lloyd family Buttler was able to speak to both the patriarch and two sons. Bumble himself was, inevitably, as irrepressible as ever. His international record, his double century against the disappointing 1974 Indians apart, is relatively modest and so Graham, who played a handful of ODIs does not lose too much in comparison. Now a First Class umpire he seems rather calmer than Bumble. Also interesting is the contribution from Ben, not a cricketer at all but a World Champion bodybuilder of all things. Apparently it is a sport that, despite having already chalked up his three score years and ten, Bumble is now in training for. The man is never less than entertaining.
Buttler takes a look, as I suppose anyone engaged in this subject must, at the Bradmans and the well known story of John Bradman's change of name. There are also chapters on the Sidebottoms, Ealhams,  Headleys, Hadlees, Ealhams, Butchers, D'Oliveiras and Tremletts. The Lehmanns and Stewarts share a chapter with the Bumbles, all three sharing the feature that at some point the father was in charge of the son's career.
There is also the chapter on Viv and Mali Richards. Mali declined the request for an interview that Buttler made, and I don't think he even asked Sir Viv, but he still found enough archive interviews to justify a chapter. Sadly he was not able to speak to Richard Hutton and did not feel able to dwell on that particularly interesting cricketing family. Hutton remains in my view by some way the most interesting England cricketer never to have been the subject of a biography or to have written an autobiography. I still hope that one day that gap will be plugged.
There is one other slight disappointment to report, that being the absence of any photographs, although given that the price of the book is a mere £10.99 for a jacketed hardback it would be churlish to categorise that as a criticism. Overall Following On is an excellent read and deserves to sell well.