Fifty Years of Forfarshire Cricket 1930
Martin Chandler |
Published: 2020
Pages: 16
Author: Miller, Richard (Editor)
Publisher: Private
Rating: 3 stars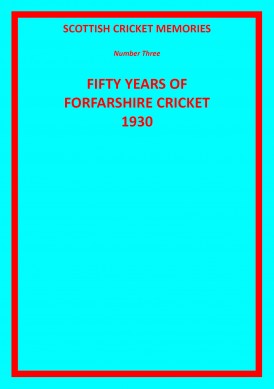 The third of Richard Miller's series of reprinted material on Scottish cricket history marks a slight departure from its predecessors, albeit not geographically. What you get this time is a club history rather than an individual player's reminiscences, although the club concerned is Forfarshire, for whom Pat Higgins of Volume 2 played for so many years.
Scottish cricket is not organised in the same way as the game in England, but I will say no more than that at this stage. I am confident that I will understand that particular issue rather more once I have read all six booklets, but for now I see that whilst inter county matches were played in Scotland, the basis of the game was essentially club cricket, and Forfarshire were involved in both.
The club was formed in 1880, so the three articles reprinted from, again, The Dundee Chronicle, cover its first fifty years. The content is the sort of material you would expect in any club history although, given that many of those are written by enthusiastic amateurs rather than professional journalists, the quality of the writing here, even bearing in mind the words were written almost a century ago, is much better than is often the case.
There are names in this history that I recognised from the Higgins booklet, and one familiar name for those acquainted with English cricket, that of Claude Buckenham, a fast bowler and useful batsman for Essex who eventually played four times for England in South Africa. At age 38, so his pace doubtless somewhat reduced, Buckenham joined Forfarshire as a professional and, demonstrating that he must have found Scotland to his liking, he later played for the club as an amateur.
The number of professional footballers who played cricket for the club was one surprise, and some of the records and statistics eye catching. I was also intrigued by the comment towards the end of the text that the father of the club's then current professional had been the fastest bowler in England for several seasons – the name given is Geoff Wilson, and so has me intrigued*.
As with its two predecessors Fifty Years of Forfarshire Cricket 1930 is an easy and entertaining read. The next booklet in the series, an account of fifty years of cricket in the county of Angus, is much bulkier and, no doubt, will greatly increase my knowledge of cricket north of the border.
*I did question Mr Miller about this and his response was I can only presume it was correct otherwise it wouldn't have appeared in the papers.  No such thing as fake news back then, thus he was as much use on that one as the proverbial chocolate fireguard!
NB. I have to apologise to Mr Miller who has now reported further on the Wilson issue. This is the record of the Geoff Wilson in question, and this is that of his father