Early Books on Nottinghamshire Cricket
Martin Chandler |
Published: 2020
Pages: 68
Author: Anderson, Duncan
Publisher: Anderson, Duncan
Rating: 4 stars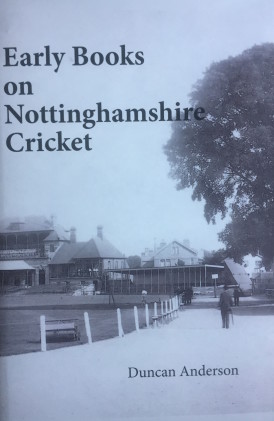 Books are wonderful, versatile things. Any book, displayed sympathetically in a decent book case, is an attractive piece of furniture before you even open it. If the book is then on a subject of interest to the reader that is a huge bonus. Beyond that there is further joy with books that are old and/or rare as, despite the ravages of economic turbulence specialist antiquarian books have proved to be a good investment over the years.
There are nonetheless some issues with old books, not least amongst them the often prohibitive acquisition cost. They also tend to be very fragile things, easily damaged and difficult to read without causing further deterioration. The way Victorian writers went about their task is a little unusual as well, and the contents of the books can be disappointing. That said there are bonuses, not least amongst the contemporary advertising that often appears, both placed by other firms to sell their wares or a book's publisher to display other items from its catalogue.
A further drawback with antiquarians books is that they seldom tell the reader anything substantial, and often nothing at all, about those involved in the book's publication and bibliographical information is often sadly lacking. In relation to the latter there is now plenty of that sort of information available, the various incarnations of Padwick always being the starting point, but there is also a bibliography devoted to Nottinghamshire cricket, published by Christopher Saunders in 2005, and also written by Duncan Anderson.
Early Books on Nottinghamshire Cricket is not therefore a bibliography, although it contains the relevant details for all of the publications it looks at. It is rather more of a narrative explanation of how the various old Nottinghamshire publications fit together and what information is available concerning those involved.
The book begins with a brief history of the game in the county followed by chapters on William North and the Sutton family who published the earliest collections of scores. There is then a look at a more familiar name, that of Francis Spybey, who produced a series of annual registers. By far the most extensive chapter is that on the Richards family, printers who were responsible for a total of 44 publications between 1881 and 1914, a number of them reprints of all or part of others. The Richards family output listed in simple bibliographical terms serves only to create a maze, and one that very few collectors, and certainly not this reviewer, have any prospect of successfully navigating without Anderson's expert assistance.
Other short chapters take a brief looks at other Nottinghamshire cricket writers three of whom, William Grundy, Samuel Hitchin and Richard Daft will be names recognised by many collectors. Edwin Browne and Arthur Sharman are less familiar names. The book ends with a couple of chapters on other ephemeral publications – particularly intriguing are the benefit publications that are referenced.
There are just fifty signed and numbered copies of this attractively produced hard back book and, at £65 per copy, it is far from cheap. For those who are interested in such things however it is a fascinating look at a far from straightforward area of cricket's bibliography and the high quality paper used throughout and the exceptionally well reproduced illustrations that frequently appear do at least mean, to use one of my mother's favourite adages, that you get what you pay for.
Early Books on Nottinghamshire Cricket is available from JW McKenzie