Dealings With A Dead Man
Martin Chandler |
Published: 2019
Pages: 15
Author: Gibbons, Roger
Publisher: GCCC Heritage Trust
Rating: 3 stars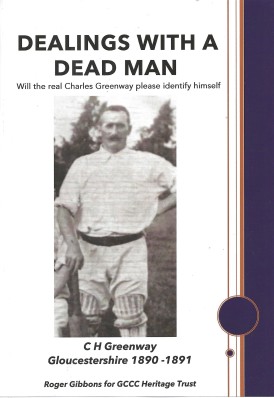 Last week and this we have reviewed four booklets that have just been published by the Gloucestershire County Cricket Club Heritage Trust. Three, including this one, are brand new and In Memoriam a reprint of a title previously issued in 2015.
Surely there is no sport other than cricket whose literature can produce something like this? Charles Greenway's is far from a household name. His cricketing record is modest to say the least. He did not achieve fame in any other field of human endeavour yet, more than sixty years after his death, he is the subject of a monograph.
Three matches is the sum total of Greenway's First Class career, back in 1890 and 1891. No batsman, he scored just eight runs in his six visits to the crease, dismissed each time. An opening bowler his record with the ball is better, but four wickets at 49 is still fairly ordinary. At least Greenway had a long life; being born in 1862 and departing this mortal coil in March 1949 was certainly a 'good innings'.
And then the eagle-eyed Roger Gibbons spotted an anomaly. In his no doubt extensive personal collection of memorabilia he found a letter sent by Greenway to 'Plum' Warner mentioning his (Greenway's) appearance at Lord's in 1891. That match was indeed one of the three, but the letter was dated 1st October 1950 by which time, according to the annals of the game, Greenway was already dead.
The explanation, inevitably, was that history had identified the wrong man as that three time Gloucestershire player. Gibbons tracks back, examines and explains the evidence, tells the real story of the Charles Greenway whose name appears on those Victorian scorecards, and does so very well.
Anyone interested in buying this and any of the other booklets can contact the author via email at gibbonsroger044@gmail.com. The price is, including UK postage and packing, a very reasonable£5 or, for multiple purchases, £12 for any three or £15 for all four booklets. An additional incentive to would be purchasers is that, naturally, all proceeds go to help the Gloucestershire museum, a very worthy cause indeed. An alternative route to purchase for those in the southern hemisphere is via Roger Page.