Cricket Overthrown
Archie Mac |
Published: 1960
Pages: 168
Author: Fortune, Charles
Publisher: Howard Timmins
Rating: 3 stars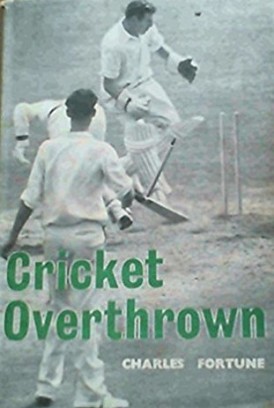 I have a mate who does not like the term Cricket Tragic. So to keep Dennis happy, for this review, we shall use the description Cricket Connoisseur (CC). There are a number of ways to spot a true CC book reviewer and a number of differing levels.
Bronze CC – reads a book on a series when he already knows the result.
I knew the series in question as it is famous for the no-balling of the young South African bowler Geoff Griffin, for chucking. So I qualify for Bronze CC.
Silver CC – has already read a book dedicated to this series.
Guilty as charged. I read a book, Perchance to Bowl, by the SA wicket keeper John Waite and CW perennial favourite R.S. Whitington. I must have read it some 30 years ago and given it a 'D' rating, which probably equates to about three stars on the CW rating system. Whitington actually earns a mention in Cricket Overthrown with he and Fortune involved in a debate with an Oval official as to whether they could park their car at the ground without an official pass. Fortune explains his shock that he and Whitington won the debate with the typically over-officious gate keepers found at the Oval.
Gold CC – has read the book under review previously.
Perhaps one day, but at this stage I will have to just settle for the silver medal. I don't think there are any books dedicated to just a single series that I've read twice. I have little doubt that my fellow reviewer, Martin, will be at the gold level.
So, to the review. Chucking was rife around this period – late 1950s to mid 60s. For instance, England believed they were chucked out by Australia in the 1958/59 series, which England entered as short priced favourites and lost 4-0. Jack Fingleton, the former Australian opener, summed up the general feeling when he titled his book on the 1958/59 series as Four Chukkas to Australia.
After the 1958/59 series there was a crusade against suspect actions, with it rumored that almost every First Class team throughout the world had a least one suspect bowler. For this reason, the Australian Ian Meckiff, due to his action, was never selected to tour England for fears of English umpires calling him.
So it was a huge risk for the South African selectors to choose Griffin when it was widely acknowledged that his action was suspect. In fact Fortune was under no illusions that Griffin did not meet the criteria under the laws of cricket in relation to a legal delivery.
Fortune keeps the reader informed of all the dramas Griffin and the SA team faced. Initially after Griffin was called early in the tour he was sent to Alf Gover, perhaps the greatest coach in cricket history, to have his action modified. Griffin made it through the first Test with no issue with his modified action but by the time the second Test arrived he had been called by six different umpires with both the old and new action employed.
In that infamous Test at Lord's, Griffin was called six times by umpire Frank Lee before he had claimed a wicket. Still the SA captain kept bringing him back to bowl (this word used loosely). At this stage the story turns almost comical with Griffin claiming the first hat-trick in a Test match at Lord's. At least it was a memorable way to leave Test cricket.  Griffin never played Test cricket again and died in 2006 aged 67.
Fortune, who although born and raised in England was a SA patriot, attempts to blame the English hierarchy and hints at some conspiracy theories to have the umpires call Griffin. From this distance it seems unfounded. After all Griffin was called by six different umpires before Lord's – not really sure how much of a surprise his calling at the home of cricket should have been.
With the Griffin controversy happening, added to magnificent fast bowling by Brian Statham (27 @ 18.18) and Freddie Trueman (25 @ 20.32), the SA team were easily defeated 3-0 in the five match series. Interestingly Trueman didn't only intimidate the helmetless batsman with bouncers, he also delivered the occasional beamer. This did not raise any condemnation from Fortune, so presumably this was considered as just part of the fast bowler's arsenal circa 1960.
Cricket Overthrown is set out in the style of most tour books of the time and is a bit tedious to modern eyes. Every match played on the tour is covered and despite Fortune travelling and staying with the SA team he does not provide more than vanilla insights into team controversies and, given the Griffin matter, you imagine there was plenty of gossip to impart.
Apart from the Griffin matter, Fortune mentions the real controversy which was going to impact the SA cricketers long term – apartheid. Apparently there were a few small demonstrations early in the tour, which he quickly dismisses as trivial affairs. Fortune also states that he personally, and he believed each member of the team too, received approximately 50 hate letters due to the SA government apartheid policy.
All in all, this is a typical tour book from the 1950s and 1960s and will be of interest to only a Bronze CC or above.