Cricket in the First World War: Play Up and Play the Game!
Martin Chandler |
Published: 2022
Pages: 230
Author: Broom, John
Publisher: Pen and Sword
Rating: 4.5 stars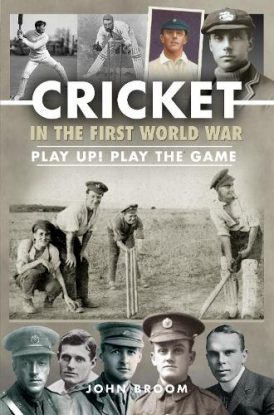 This book, John Broom's follow up to last year's excellent Cricket in the Second World War: The Grim Test, has been in the schedules for a while. It follows a number of books on the subject of cricket and the Great War that have emerged since the 2014 centenary of the beginning of that appalling conflict.
The other books on the subject have, by and large, concentrated on the many cricketing lives that were lost. As with The Grim Test Broom's lens is set rather wider than that, and looks at the game and all who played it in the context of each of the years 1914 to 1919. That much I expected.
What never crossed my mind for a single moment was that I would be reading the book in the context of another European War. That over a hundred years on from the conclusion of the 'War To End All Wars' humanity still seems to have not got the message is depressing in the extreme. Nonetheless there is no doubt that current global circumstances add something to the message from history that Broom presents to his reader.
It is striking just how quickly the 1914 season ended once hostilities began at the start of August, and just how widely the opinion was held that cricket should not continue, and that all able-bodied young men should take up arms. Many, many cricketers did, and there was clearly some strong disapproval of those who did not.
Prevailing attitudes are well illustrated by the decision of Kent in early 1915 to write to their then remaining eight players who had not volunteered for military service to enquire why they had not done so. I wonder how 'Tich' Freeman felt when he received that letter, what was going through his mind when he penned his response explaining that at 5'2" he could not achieve the minimum height required, and how the club official who signed the original letter felt when he read that response.
Unlike many the Bradford League was determined to carry on as normal, and despite criticism it proved a magnet for a galaxy of great players, Frank Woolley, Jack Hobbs and Sydney Barnes being just three of those who were attracted to League and its fortunes and those of its stars are one of Broom's recurring themes.
The fortunes of the county clubs through the years of the conflict are examined, as are those of clubs in towns and villages throughout the country. Some battled on, whilst others did not, but the playing of cricket did, especially when good causes were to benefit, become more acceptable as the years passed.
With so many casualties to report on it is inevitable that there are plenty of short obituaries within the individual chapters that cover each year of the war. Inevitably there are familiar stories, but not all fall into that category by any means. In addition the fact that Broom's book is not solely concerned with those who did not survive means that there are many interesting accounts of those who paid a price, but not the ultimate one.
Two men who were wounded were the brothers Kilner, Roy who went on to play for Yorkshire and England, and Norman who joined Warwickshire. Another man who survived to play again, defying the expectations of those treating him at the time he sustained his wound , was leg theory bowler Fred Root.
Not all those injured or wounded played again. One of the most promising young all-rounders in the game in 1914 was Frank Chester. Sadly his wounds cost him an arm, and Chester had to content himself with going on to become the most respected umpire in the business. And then there were those whose careers were ended by wartime injuries, albeit not sustained in the conflict itself, like Gilbert Jessop and Frank Foster and, to all intents and purposes, the great Ranjitsinhji.
In much the same way as he did with The Grim Test Broom succeeds in packing an extraordinary amount of information into a book that is not overly long. One of the risks in doing so is that some stories simply demand some further research from the reader and one such here is that of Roland Bradford. As the book is essentially a cricket book the fact that Bradford played only regimental matches for the Durham Light Infantry, does not demand a particularly detailed examination of his life.
But what a man Bradford must have been. He was awarded a Victoria Cross (as was one of his siblings) and he died, as a Brigadier General, at Cambrai in 1917. What is so remarkable about Bradford was that he was only 25 when he fell, and my attempts to learn more about him have, I have no doubt, caused some surprise to a good friend of mine who is a military historian. I stress however that this comment is not a criticism of the book. At the end of the day there must be a limit to the detail that can go into this sort of history and it seems to me that if an author succeeds, as Broom certainly does, in leaving his reader wanting more then that must be the best indicator there can be of how successful he has been. As with The Grim Test, Play Up and Play the Game! is highly recommended.