Covers
Archie Mac |
Published: 2004
Pages: 62
Author: Whittock, Nick
Publisher: COD
Rating: 1 stars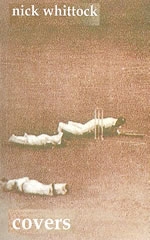 I often, despite a lack of money or a need to read – I have about 500 books that I am yet to peruse – buy cricket books simply because I convince myself that they will one day be a good investment. This despite the fact I have never sold a book in my collection. I blame the CBCV (Cricket Book Collector Voice) in my head, who never lets a good deal slip by.
The CBCV was quiet when I initially read about the release of a new cricket book called Covers on the now defunct ABC cricket forum. It was to be released in a little town on the South Coast called Candelo, of which I had never heard.
That evening my wife announced that our annual family holiday would be spent at a place called Merimbula on the South Coast. This was apparently ideal as there was lots of activities for the kids including a theme park called Magic Mountain (no concern for the old man!). The previously dormant CBCV sprang into action.
CBCV the South Coast? I wonder if Candelo is close to Merimbula? The dates of the holiday and book launch match up.
'No' I thought, 'the wife will never go for it.'
On the second last night of the holiday it was decided on the following day that we would all go to Magic Mountain, this was the same day as the book launch in Candelo.
CBCV this whole trip has been about everyone but you. Put your foot down and demand to go to the book launch, a signed copy, a first edition, it is a chance too good to be missed.
I was not sure of the book launch time, so we arrived early. I had assured the kids that it would all be over by lunchtime and that we would then travel to Magic Mountain, and that Dad would even go down the giant water slide with them (they were not old enough to yet be embarrassed by their fuddy duddy father).
We had quickly found that all – and there were not many – the shops were closed in Candello and after lunching in the one pub in the town, we were finally informed that the book launch would not be taking place until six in a small shop in town. 'We will just have to miss it' said the wife, 'the kids are bored and you promised them we would leave for Magic Mountain.'
CBCV take charge! You can take them to Magic Mountain another time, this book launch will not happen again.
After telling the kids that Magic Mountain was closed, but that we would stay an extra day and go tomorrow we proceeded to walk around the town, which killed ten minutes, and only left five hours and fifty minutes to go. After what seemed like forever the moment arrived. We spotted eleven cricketers walk into town, and my spirits rose, an author and a cricketer, how could we go wrong.
We all gathered in a little shop, the eleven cricketers, the authors family, the publicist and us. The publicist announced that this was a book of cricket poetry and that this first run would be of just a hundred, but more editions were expected.
CBCV 100! A signed first LTD edition, imagine how much that will be worth in the years to come.
The author came up. He would read some of his poems and then you could buy a copy. For reasons best known to himself the author proceeded to read out a selection of his poems in German, what's more after each one he would rip the page out of his book and throw it to the cricketers in the crowd. All of which were dropped which explained why they had lost their match on that day.
CBCV look at the positives; that only leaves 99 books on the market.
Finally he finished his German readings, and my wife gratefully agreed to go up and have our copy of his book signed. She brought it back. I had a look and it said 'best wishes' under which instead of his signature appeared a drawing of three stumps.
CBCV you are not going to stand for this! That is not a signature. Ask him is that how he signs his drivers license?
Right! I sent the wife back up, with the CBCVs question. The Authors indignant reply was 'that is one of my signatures; yes.'
I threw the book into the console and drove back to Merimbula. Where I was forced to pay twice the price for the same accommodation for an extra nights stay. And then the next day hurt my back at bloody Magic Mountain.
Three months later I found myself in the dentists waiting room. With only womens magazines to read, I remembered my little book of poetry which was still sitting in the console. It took me only 20 minutes to finish, but like the night the author read it in German, I did not understand a single thing I was reading. It must be in a code of some sort I thought. I read every second word, I tried to read them backwards but still they made no sense. The little squiggles and letters that appeared as orphans simply added to the confusion. It is still the worst cricket book I have read, and surprise, surprise it never went into another print run. Here is an example of a poem from the book that made the most sense:
steve w
on a pilgrimage to gandara
with his bat tucked behind
his ear it makes me sad he
has to be superman and its
no longer ideal I want to le
arn to bowl legspin and fold
the air