County Cricket Matters Issue 9
Martin Chandler |
Published: 2021
Pages: 38
Author: Chave, Annie (Editor)
Publisher: County Cricket Matters
Rating: 5 stars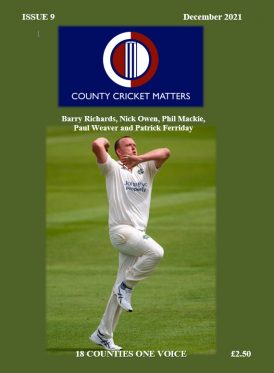 County cricket has been the bedrock of the English game since Victorian times, and even the strange summer of 2020 saw a version of the County Championship. The county game has never been without its detractors however, and in recent years the threats to the continuation of the tradition have become louder and louder, so much so that in 2019 a band of intrepid cricket lovers banded together to form County Cricket Matters, an organ which permits those who value the county game to have a shared platform and voice.
Every three months the voice of CCM speaks through its regular quarterly journal, contributed to by a bevy of fine writers, some professional and some amateur, and all co-ordinated by the drive and enthusiasm of editor Annie Chave who, between issues 8 and 9, has proved herself to be a true visionary by recruiting a patron. The gentleman concerned waxes lyrical about county cricket in his acceptance message, which speaks volumes given that he is the former Australian pace bowler, Jason Gillespie.
Since CCM8 appeared there is one issue that has become the single most significant trauma that county cricket has ever had to deal with. I am referring, of course, to the furore that has been unleashed as a result of the treatment of Azeem Rafiq at Yorkshire. That it seems inevitable that there will be a permanent change in prevailing attitudes is the positive outcome of what has come to light. Whether that will come in time to repair the damage that has been done is another question altogether, but the eloquent explanation of his own experiences by Umar Mughal is a sobering one. The realisation amongst the many of us within the silent majority that we have, albeit unwittingly, in many ways been as responsible for what has happened as the sizeable minority is a chastening one.
Moving on one of the more interesting interviews I have read in recent months is that of former West Indies pace bowler and First Class umpire Vanburn Holder by Colin Babb, author of the excellent 1973 and Me. Despite playing out his career in an era when overt racism in UK society was widespread Holder has no real complaints on that score which does raise the question as to why, whilst society in general has undoubtedly become more tolerant, change seems not to have been reflected in the way cricket is run. One reason, I suspect, is that Holder comes from a generation whose expectations were rather different from today's, but that cannot be the entire answer.
Moving on to rather more straightforward matters it was quite a coup for Annie herself to be able to interview Barry Richards, one of the two international cricketers I have had the pleasure of interviewing in my time with Cricketweb. I am sure Annie would have enjoyed the conversation as I found Barry an absolute pleasure to talk to, and she manages to extract some fascinating insights from the man who was undoubtedly the best right handed batsman I have ever seen. Personally I am still rather proud of teasing out of Barry his memory of the occasion when he Mankaded* Ray Gripper in a Currie Cup match, but that story apart if you compare my interview with Annie's you will see why my decision to concentrate on reviewing books was a wise one, although I see Annie is now challenging me there as well. That said the book she reviews, Graham Coster's The Nature of Cricket, is not one that had not come to my attention, although on the strength of Annie's review I may well buy it.
And whilst there is just the one review there are two more articles of interest to the bibliophiles amongst us. The first is by Patrick Ferriday, biographer of Wilfred Rhodes, who provides what amounts to an explanation of why a full biography of Rhodes was needed, and a splendid book it is too, fully endorsed by Archie Mac and myself. The other bibliographical journey is from cricket journalist and author Paul Weaver, who explains why he doesn't normally read cricket books, but why he made an exception with Stephen Chalke's modern classic, Summer's Crown, the definitive book on the subject of the County Championship.
To most of my generation television presenter Nick Owen is a familiar name, face and voice, but I had never realised he was a cricket lover. In his contribution to CCM9 he explains why and how his interest in the game developed. His story certainly struck a chord with me, although he did at least get three overs to see on his first visit to a Test match. Sadly for me I saw nothing at all at a damp Old Trafford in 1980, nor indeed at Lord's in 1987 on my second visit, although thankfully I have seen play since and not, to date, experienced any more blank days.
CCM9 sees contributions from two lifelong Derbyshire supporters, John Stone and Steve Dolman. John, I am sure, will not mind me describing him as a veteran, and his piece combines glimpses of two excellent subjects from cricket between the wars. One is Derbyshire's unexpected Championship triumph in 1936, and the other is the life and times of Northamptonshire and England batsman 'Fred' Bakewell. Steve, on the other hand, probably will mind my describing him as a veteran, but I'm going to anyway as I have it on the best possible authority, @FTWallace1, that despite the shortness of Wallace's legs Steve is no longer always able to keep up with him. Whatever Steve's age what cannot be denied is that the man who has authored two excellent books on Derbyshire cricketers**, and maintains the always readable Peakfanblog writes with great warmth in CCM9 about Why I Love Derbyshire.
Moving south and east from Derbyshire brings a traveller to Worcestershire, and another county that features twice in CCM9 in different ways. Firstly the BBC's Midlands correspondent Phil Mackie pens a not dissimilar piece to Steve's homily to Derbyshire. Richard Clark's essay, entitled It's not all about the Superstars is a look at the short and largely uneventful First Class career of Cedric Boyns. The all-rounder played 36 times between 1976 and 1978 with a solitary further appearance in 1979. Career averages with bat of 18 and ball of 46 suggest a man not quite good enough for the First Class game. Possibly now living in Cornwall it is to be hoped that some kind reader of CCM will be able to put Clark in touch with Boyns, so that the subject can be revisited in a future issue.
There are other fine contributions to CCM9 concerning the county game. Deputy Editor Jeremy Lonsdale, an eminent historian of the game in Yorkshire, spends some time in 2021 and makes a number of excellent suggestions for a better structure for the English domestic game. Given the way he puts his case it is difficult to see why the ECB would not take on board everything he says, but I am sure I am not alone in doubting whether they will actually follow any of his sage advice. That said that there is something right about the Championship in its current incarnation is vividly illustrated in Garry Clarke's essay on the remarkable match between Hampshire and Lancashire that took place at Aigburth in September.
Which just leaves Zander Bertwhistle, and a selection of Tall Tales from the Lancashire League, retelling stories from Accrington from the 1930s originally told to him by a veteran of that era during and after a round of golf played forty years ago. Subjects include Learie Constantine, Donald Bradman and Hedley Verity.
And of course CCM9 wouldn't be CCM with a quiz from Craig Tranter, and a fiendish crossword to bring up the rear. This time Craig's questions look easier than they are, and reminded me how poor my short term memory is becoming. As for the crossword this time Annie has brought in a ringer, the bloke who sets them for The Independent, so unless you are well versed in solving cryptic crosswords or have a very large brain I'm afraid you aren't going to get very far.
And finally, bringing up the rear of this review is mention of the only contributor to have appeared in each issue so far, Derek Payne aka Deep Fine Throat. In CCM9 his satire is as biting as ever, and recommended reading for all save, possibly, Tom Harrison.
And a rating? I'm afraid that for CCM, which has so far garnered eight consecutive five star reviews, the only way is down, but certainly not yet as once again for anyone who loves the county game, and there can be very few cricket people, if any, who do not, then CCM9 is five star stuff once more.
*I appreciate that there will be some who do not like my use of Vinoo Mankad's name in conjunction with this form of dismissal, however I do so because all will know what I mean, and also because I do not and have never believed that the use of his name conveys any sort negative imputation on the character of a man who was undoubtedly one of the finest all-rounders the game has seen.
**Edwin Smith: A Life in Derbyshire Cricket and In Their Own Words.