County Cricket Matters (2)
Martin Chandler |
Published: 2020
Pages: 45
Author: Chave, Annie (Editor)
Publisher: www.countycricketmatters.com
Rating: 5 stars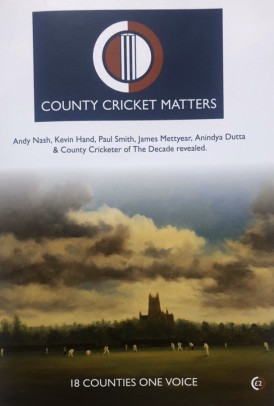 The first edition of County Cricket Matters appeared at the back end of last year, and was reviewed here. Regular readers will be pleased to learn that I will not on this occasion be trotting out a homily of my own by way of a review and, this time, will stick to examining the contents of this splendid publication.
Last time round the booklet began with an editorial from James Buttler, but this time there is no byline on the elegantly written mission statement. Methinks therefore that perhaps the badger has stayed in his set this time, and that Annie Chave is responsible for this one.
The first essay in the booklet comes from Anindya Dutta. What, you may well ask, is an Indian writer doing gracing the pages of County Cricket Matters? Of course that is the whole point, demonstrating that the appeal of the County Championship is universal. And what does Anindya write about? Naturally it's a Championship match, more specifically the last to be completed before the Second World War closed the First Class game down for six long summers. Anindya is every bit as good on Hedley Verity as he was on India's spin bowling heritage here. I have also reviewed three other books by Anindya which you can find here, here and here.
In at first drop is the Historical Perspective member of the team, Jeremy Lonsdale. Yorkshiremen like Jeremy are strong on tradition and that is the focus of his contribution. As is to be expected from a man who penned this, this, this and this it is an eloquent and thought provoking piece.
Sussex man James Mettyear is, I was pleased to note, older than I am. There isn't much in it though, so I could certainly identify with a story that begins with his first visit to the County Ground at Hove back in 1966 and continues with the story of his love affair with his county up to and including the present day.
It has been most remiss of us not to have reviewed any of the four cricket books that have been authored by Dan Whiting, also known for a rather splendid blog, The Middle Stump. This year we must make good that particular deficiency in our coverage of the literature of the game, and in the meantime I certainly recommend his contribution to County Cricket Matters, looking as it does at the influence of overseas cricketers on the county game since 1968. He starts with the great Barry Richards, not that that can have been a difficult decision.
But County Cricket Matters is not all romance, history and a paean for County Championship campaigns of the past. There is some reality and hard pragmatism to go with that and nowhere more so than in a fascinating essay from Andy Nash, the current Somerset Chairman.
There are also a couple of excellent contributions that scratch away at the surface of the county cricket we are all familiar with and provide some context about the less well known aspects of the county game. The first is from Garry Clarke on the subject of the Minor Counties, and the other from near namesake Richard Clark on the women's county game.
Mike Andrews has a sales and marketing business and, I suspect, was a rather better cricketer than his blurb suggests. He also does a bit of cricket writing and I much enjoyed his bringing his professional skills to bear in analysing county cricket's varying product range by likening the market for the game to that for whisky.
Apart from the essays there are also a couple of interviews, both conducted by Annie. The first is with the BBC's Middlesex commentator Kevin Hand. Those lucky enough to watch a lot of county cricket and to earn a living from doing so are unlikely to get rich, but they do still lead an enviable existence and, most significantly for these purposes, are ideally placed to comment on the 'matters' in hand, the future of the county game.
The second interview is with the former Warwickshire player Paul Smith. Not exactly your typical ex-pro Smith produced an excellent autobiography a few years ago and, re-inventing himself now as a writer and speaker is, I would suggest, going to make a great success of that – or perhaps it is down to the skill of the interviewer that he creates such a positive impression?
And there are a few other briefer pieces as well. There is the result of a twitter vote for the title of County Cricketer of the Year. With my not being in the spoiling business you will have to buy the booklet to learn who won that particular accolade. There is also an entertaining and only slightly scurrilous interpretation of events inside the ECB from Derek Payne and, last but not least, a quiz from Craig Tranter consisting of eighteen questions, the answers to which appear on the publisher's website, although I couldn't immediately find them there. I know I got the Lancashire question right, and a few others, but not so many that I would have any intention of announcing my score anyway.
The contents of County Cricket Matters are, without exception, well worth reading. The booklet's raison d'être of itself justifies a high rating as does the modest cost (£2 plus postage), unchanged since last time despite a 25% increase in bulk. But there is one more reason to repeat a five star ranking for this edition, and that is the front cover. Those who follow my twitter feed (@fredertang) will know that I am the proud owner of a wonderful painting of a cricket match by Anthony Klitz. This edition of County Cricket Matters is graced by a painting from former Gloucestershire and England wicketkeeper and accomplished artist Jack Russell which, if such a word exists, is most definitely Klitzian in style.
County Cricket Matters have a Facebook page, and can be contacted by email at Annie@countycricketmatters.com or via Twitter @MattersCounty