Caught in the Middle
Martin Chandler |
Published: 2017
Pages: 224
Author: Procter, Mike
Publisher: Pitch Publishing
Rating: 4 stars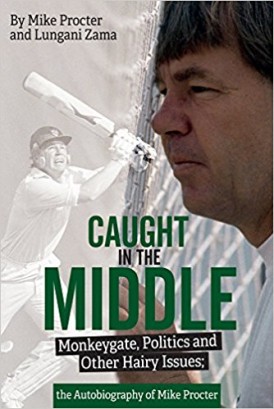 It is a sobering thought that Mike Procter is 70 years of age. As a youngster I remember watching an ebullient Procter bowling fast and straight and batting with a remarkable joie de vivre in the early 1970s. He always interested me and his 1981 autobiography, Mike Procter and Cricket, was one of the first books on the game I ever read. I didn't realise then that was in fact a second stab at the genre, another book, Cricket Buccaneer, having been published in South Africa back in 1974. By my calculations it was only the fifth autobiography published by a South African cricketer, and the fact that Procter was then only 28 underlines better than anything just what an exciting talent he was.
The two older books are interesting ones and revisiting them in the light of Caught in the Middle does throw up a couple of curiosities. There is a chapter in the new book entitled 'The Walk Offs'. It opens with the words I have been involved in two walk offs in my cricket career, and goes on to tell the oft told but still thought provoking tale of the protest against apartheid carried out by both teams in a Transvaal and Rest of South Africa match in 1971. Better remembered, but rather different, was the Oval Test of 2006 when Pakistan forfeited the match by refusing to come out after tea following an accusation by Darrell Hair of ball tampering. Procter was the ICC Match Referee for the match.
Procter's take on events at the Oval is fascinating, and one of the highlights of the book, but that opening sentence is not really correct. In Cricket Buccaneer Procter devoted a chapter to what he called 'The Wilmot Affair'. The match concerned was between Rhodesia, captained by Procter, and Eastern Province, led by Lorrie Wilmot. Rhodesia, Procter at the crease, needed to win to lift the Currie Cup and their run chase got down to them needing six runs from the last over, at which point the Eastern Province side left the field, not to return. There was a disagreement over when the twenty overs required in the last hour had begun, and as far as Wilmot was concerned the game was drawn. Initially the game was forfeit to Rhodesia, but the South African Cricket Association overruled the umpires. To be fair to Procter he does mention the incident towards the end of Caught in the Middle, but surely there were three walk offs?
For those who have fast moving and exciting lives I suppose it must be easy for things to slip through the net, and Procter's oeuvre does reveal another example. In Mike Procter and Cricket our man describes his first taste of Test cricket as coming in 1966 when arrangements were made for himself, Barry Richards and Lee Irvine, touring England with a Wilfred Isaacs XI, to act as dressing room attendants for the visiting West Indians. In Caught in the Middle on the other hand he talks about attending the denouement of the Lord's Test in 1963, whilst on tour with the South African Fezelas. This was the famous occasion when the last over began with England needing five to win with their last pair at the crease, non-striker Colin Cowdrey having sustained a broken arm earlier in the match.
I do not, I hasten to add, make these observations by way of any suggestion that they detract in any way from the authority of Caught in the Middle, but merely to highlight the difficulties of writing one's own story more than once and, doubtless, of encountering reviewers who have read the earlier efforts and have elephantine memories.
The above noted I have no hesitation in declaring that Caught in the Middle is the best of the three, and by a distance. It is not a conventional autobiography in that it begins in 1991 when South Africa were readmitted to the international game with Procter as coach, and therefore comes as a salutary reminder to those of us who tend to remember Mike Procter only as a player, that there was so much more to his life in cricket than bowling fast and hitting the ball out of the ground.
Perhaps it is to reflect what Procter considers to be the relative importance of the two segments of his life that he starts where he does. Having done so he then moves seamlessly through the nineties and noughties before looking in some detail at what, for this reviewer anyway, is certainly the most interesting part of the book.
Procter has done so much that Caught in the Middle could have been a tome of epic proportions, right up there with the Waugh, Ponting and Gilchrist autobiographies in terms of occupation of shelf space. That it remains of modest size is, to be honest, a good thing, although there are a few areas where the reader is left wanting to know more.
There is one match, universally known as 'Monkeygate',  on which Procter does dwell. I do recall the controversy well, although I'm not sure I ever looked into it in any great detail. Procter clearly still has very strong feelings about one of the most difficult decisions a match referee has had to face. He has my sympathy, given that no one on either side seems to have tried to assist him.
After 'Monkeygate' there is then a move back to Procter's own career for a quick look at what that consisted of, although there is virtually nothing of his short but brilliant Test career. There are a few pages dealing with his time at Gloucestershire, the highlight of which is a priceless story about a quite ridiculous game of one a side Rugby played out between Procter and teammate David Green on a hotel lawn one Sunday morning.
The last piece of important business covered is World Series Cricket, always an interesting subject, and there are a few illuminating numbers in a short appendix at the end of the book. The game's diehard statisticians will not approve, but the exercise in looking at Procter's Test career together with his performances in WSC and for the Rest of the World XIs of the early 1970s is an interesting one.
Caught in the Middle is an excellent book and, particularly for those of us of a certain age, most definitely a 'must read'.