Captain Pat   
Archie Mac |
Published: 2022
Pages: 248
Author: Reed, Ron
Publisher: Wilkinson Publishing
Rating: 3.5 stars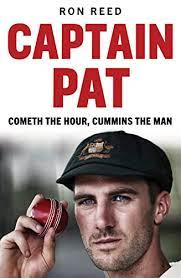 Ron Reed was a man after my own heart. He writes that he had approximately one thousand cricket books and particularly wanted to write a cricket book so that he could add one of his own to his collection. Unfortunately, Reed died shortly after finishing Captain Pat. An experienced author, Reed had written seven previous books on other sports including one on Australian tennis star Ash Barty.
In Captain Pat, Reed tackles the crisis early, that both led to Pat Cummins assuming the role of captain and his biggest controversy once in the hegemony job. We start with Cummins' reluctance to state whether he supported the reappointment of Australian coach Justin Langer. Reed is adamant that Cummins non committal approach was the right one in the circumstances, this, despite the outcry from Langer's former Australian teammates and large sections of the Australian public.
The other controversy Reed explores is the resigning of Tim Paine from the captaincy just prior to the commencement of the 2021/22 Ashes Series. This was the texting scandal which involved Paine and a former employee of the Tasmania Cricket Association. Reed doesn't take sides in the Paine imbroglio, although he does take aim at Cricket Australia (CA) and the fact they hung Paine out to dry. 
These two subjects, covered as they are in the first three chapters, sees Captain Pat off to a rollicking good start. Reed then changes pace and we explore Cummins' childhood and his rapid rise to the Australian cricket team as the second youngest Australian to make his Test debut when he played against South Africa aged just 18. Unfortunately that was Cummins last Test for a number of years as injuries, predominately to his back, stalled his career. A plug for CA here as despite Cummins being out of Test cricket for five years he kept his CA contract.
About a third of the way into the book and Reed again changes gear. This time Captain Pat becomes a tour book featuring the 2021/2022 Ashes, although there is still a focus on Cummins and his part in the contest. Reed reminds us just how poor the tourists were and all the machinations with Covid wreaking havoc with the series. Each Test has a dedicated chapter and is followed by a featured subject. These include pieces on Joe Root, Nathan Lyon and what I thought the best piece in the book, a mini bio on Scott Boland, who had that dream Test debut at the MCG.
Captain Pat, is written in a light breezy style, and perhaps Reed's many years as a newspaper journalist accounts for the accessible text. The book is quite well set out and there is a lengthy stats section and detailed Ashes score cards. Gremlins visit one chapter which has several pages repeated. This doesn't detract from the book at all however.
I really enjoyed Ron Reed's laidback writing style and shall have to track down his book on Ash Barty. I hope that Captain Pat was published before he died and he realised his dream of seeing a cricket book he wrote on his bookshelves. I am certainly proud to have his book in my collection and can highly recommend it.
Captain Pat retails in Australia for $29.99