And Bring The Darkness Home  
Archie Mac |
Published: 2021
Pages: 221
Author: Milam, Greg
Publisher: Pitch
Rating: 4 stars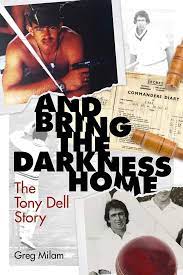 This book reminded me of the Biography on C.T. Studd – Cricketer and Pioneer, in that there is only one dedicated chapter on cricket. Studd's cricket career featured mainly his involvement in the 1882 Test which gave birth to the Ashes. The rest of the book focused on his missionary work in Africa.
In And Bring The Darkness Home, the Ashes Test covered is the last of the 1970/71 series in which Tony Dell made his Test debut, and saw England win the match and the little urn. The chapter on Dell's Ashes Test still raised some interesting titbits for the cricket fan. For instance some of the Australian players, including Dell, had to hitchhike to the SCG on the first day of the Test. There are also regular references to cricket throughout the book to help sate the cricket fan.
The rest of the book predominately focuses on Dell's eventual diagnoses of Post Traumatic Stress (PTS), and all the tribulations that involves. These tribulations include Dell's service in the Vietnam War and what turned out to be his legacy, the Stand Tall 4 PTS – charity that brought public attention to PTS and help for its impact on ex-serviceman. 
Mainly due to PTS, Dell returned from war as an angry and slightly paranoid man. Due to PTS he has almost no recollection of his first class cricket career, or of many people he came into contact with once he'd returned home.
Some of the statistics and stories of loss quoted in And Bring The Darkness Home can make for a tough read. It's not like any other cricket book I can recall and really makes you question not just the point of war but the treatment by societies, throughout history, of the soldiers who fought for their countries.
His war experiences cost Dell a marriage, and both his cricket and business careers. At one stage Dell was living in his mother's garage and was struggling to make ends meet. Thankfully by the end of the book, and due to his charity work and meeting his soul mate, Dell appears to have turned his life around. It is just a pity that it took him almost 40 years to find his niche.
The book, despite the heavy content, is an easy read. First time book author Greg Milam has a pleasant accessible writing style and for a full biography I did not spot one typo. I may have been a bit tough with the awarding of four stars, but there is no index and not a lot of illustrations. Also for a cricket review site there is just not quite enough cricket content.
Still, I don't think anyone who reads And Bring The Darkness Home will not be affected by what PTS can do to the human mind. This is definitely one book that you don't need an interest in cricket to thoroughly enjoy and is highly recommended.