A Handful of Confetti
Martin Chandler |
Published: 2013
Pages: 165
Author: Green, David
Publisher: TME Publishing
Rating: 4.5 stars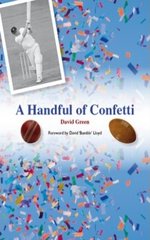 David Green was a cricket lover from an early age. He played the game at Manchester Grammar School, and then at Oxford University, and for the three years he spent his Mays and Junes amidst the dreaming spires he played as an amateur for Lancashire in the second half of those summers.
He seems to have enjoyed himself at University, so much so that the degree he left Oxford with did not equip him very well for a future career, so in 1964, after a year away from the First Class game, he returned to Lancashire as a professional cricketer.
In many ways this is the least autobiographical autobiography I have ever read, and I will quote now, in its entirety, how the hard-hitting opening batsman and occasional medium pace bowler deals with that part of his life:-
In 1964 I scored 1,500 runs and then got 2,000 in 1965. I thought it would go on from there but in 1966 I only managed 1200, and played like an idiot in the second half of the season. Moreover, I then called the Chairman a prat, which he was, and found I couldn't get in the team at all. At the end of the 1967 season I left Lancashire to join Gloucestershire.
Was it a hedonistic lifestyle that caused the schism with Lancashire? Green doesn't say so in terms, but he certainly seems to have preferred the more relaxed and forgiving regime at his second county, where he spent three more full seasons before, aged just 30, he left the First Class game.
The next step in Green's career was to work for a company run by Ken Graveney, brother of Tom and a former captain of Gloucestershire. He did that for a while, but on page 147 of this book he admits what his reader had long come to suspect, that he wasn't keen on "proper work", and in 1982 he was delighted to accept a much more congenial appointment as a cricket and Rugby Union correspondent for the Daily Telegraph.
So what is this "autobiography"? In large part it seems to me to be an attempt by Green to downplay his own talents and tell stories against himself. Of course he wasn't a great player, and even more clearly not a consistent one, but there were two English summers in which he scored more than 2,000 First Class runs. In those days a lot more First Class cricket was played, so that was not the spectacular achievement that it would be today, but both were notable achievements; the first because, uniquely, Green got there without a century (the highest of his 14 half-centuries was 85) and the second because it secured his place amongst Wisden's Five Cricketers of the Year in 1969.
Throughout A Handful of Confetti there are snippets of Green's life and his opinions, but most of the time he tells his story through his encounters with others. The book is liberally sprinkled with essays about teammates and opponents, and Green's experiences with them are the major sources he uses, an approach I have not seen before. The headline acts are Fred Trueman, Brian Statham, Mike Procter and Arthur Milton, but there is a long and distinguished supporting cast.
Did I enjoy A Handful of Confetti? Too bloody right I did, and it is without a doubt the best cricket book I have read in a long, long time. It is full of humour, without being comical, and when Green is serious, and often when he is not so serious as well, he provides fascinating insights into the way the game was played in his era, one of great upheaval and change for the English game.
As is to be expected from an experienced writer – which is what Green is even though he likes to create the impression that he was never more than a jobbing "cub" reporter – the book is beautifully written, and is definitely in 5 star territory. It is let down slightly by just one thing. I think what Green has probably done is, to a certain extent, gathered together pieces that he has written in the past, and it jars just a little to read something only for it to be repeated or otherwise duplicated just a few pages further on. Thus I think A Handful of Confetti could have been edited rather more thoroughly, although given its author's distaste for hard work, perhaps that shortcoming simply underlines his message – but if it does I'm still docking him half a star for that, and the lack of any sort of statistical appendix even though, again, I can see force in the argument that in this particular book the presence of one would be detrimental to the impression the author wishes to create.
But those issues are not very important, and at the end of the day are of no real significance – A Handful of Confetti is a superb book, and one that I unhesitatingly recommend.