Andrew Gale Introduction
Andrew Gale |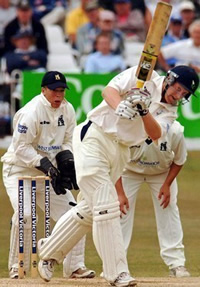 To introduce myself I am Andrew Gale and am currently a professional cricketer with Yorkshire County Cricket Club. I have been with the club for the last five years and have come right through the junior ranks before making my debut 3 years ago. Since then I have been a regular in the one day format and now hope to cement a place in the championship side. I have also represented England at U15 and U19 level.
As Chris mentioned in his column, we have just merged our two coaching companies together to become the leading cricket coaching company in the North of England (procoachcricketacademy.co.uk and procricketcoachingacademy.com). Our company now has over 10 venues across the North and hopes to continue to accommodate the mass of talent around the area. We believe in bringing the professional game back to the grass roots.
I started my cricket at eight years old at Gomersal Cricket Club in the Yorkshire Central league before moving to Cleckheaton Cricket Club, a place I now call home. When I was younger I never thought about becoming a professional cricketer, all I thought about was being a pro footballer. I played for Yorkshire Schools all the way up to U15s before being offered an academy contract where then it became clear to me what I wanted to do with my life.
I spent two seasons learning my trade in the second team, compiling hundred after hundred before being given my big break to represent the White Rose. Over the last three seasons I have played the majority of the one-day games and have loved the Twenty20 format, but I haven't always had the opportunities to prove myself in the longer form of the game. I made my maiden first-class century in 2006 against Warwickshire and was voted YCCC player of the year.
In the winter of 2006/07 there was a lot happening behind the scenes at Yorkshire. David Byas left, Michael Lumb left, Anthony McGrath wanted to leave and Darren Lehmann also decided not to come back. I eventually thought my time had come. I geared up to take my chance and cement my spot. Unfortunately things didn't go to plan; Anthony McGrath decided to stay, we signed Jaques Rudolph and Younis Khan and again I found myself in similar territory trying to find a spot in an experienced line up.
By the end of last season I was back in the championship fold where I put some useful knocks together. I am now in pre season training preparing for the long season ahead. As a team we are being put through our paces with fitness programmes and I am going to India and Dubai in sight of gaining the form I need to score big runs in 2008.
Over the years I have been lucky enough to play with and against some of the world's greats. Darren Lehmann was a sensational player who has had a massive impact on my career. Anthony McGrath has helped me immensely in thinking about the game's mental side of things. I have played against the two spin kings, Shane Warne and Muttiah Muralitharan. What better way could a young player learn, than to play against these two?
I don't consider myself a young player anymore and this season is going to be a big one in my career. Hopefully I can push on and help Yorkshire bring some silverware back to Headingley. I hope the Cricket Web viewers have enjoyed an insight in to my career.
Don't forget to check out playinthevcricketbats.com, where Chris and myself have devised a coaching aid to help all you cricket enthusiasts become better players.
Speak Soon,
Andrew Gale