Anno Domini finally catches up with SRT
Gulu Ezekiel |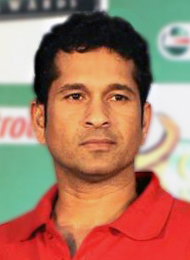 My cricket guru David Frith had told me some years back that it was tougher to deal with too much rather than too little material when writing a book. That was the dilemma faced by me when I got down to writing the first major biography of Sachin Tendulkar in September 2001. What loomed in front of me was a mountain of material.
Eventually, the book took up around 125,000 words at a time when Tendulkar had 12 years of international cricket behind him. Two updates followed in 2010 and 2012, the second to mark his 100th international century.
Controversies? Just a tinge. It was a big letdown back in 2000 when Tendulkar did not take a more proactive role against the scourge of match-fixing that broke out that year with the revelation of the Hansie Cronje tapes. A couple of years later came the business of import duty on his prized Ferrari gift. And that was about all.
Not for Tendulkar the shenanigans of two of his most famous contemporaries and friends, Aussie Shane Warne and West Indian Brian Lara who for all their dazzling cricket achievements, made as many headlines in the gossip section as the sports pages. Matrimony and fatherhood came early to SRT. The responsibility of a young family and his solid middle class values meant that despite the deluge of riches, fame and adulation, the boy from Bandra was always firmly focused on cricket.
His story is well known by now and the stuff of legends (and maybe the subject of a movie somewhere down the line). The child prodigy, son of a Marathi professor and poet, guided by his elder brother Ajit, coached by the legendary Ramakant Achrekar who never changed his natural style, breaker of records while still a teenager. And nearly a quarter of a century later holder of all the major batting records both in Test cricket and ODIs, something that will never even be approached as international cricket is rapidly being sidelined by the mushrooming of 20/20 leagues across the world.
And yet, the lingering feeling is that he jumped before he was pushed. The last two years had been bleak, the runs had dried up. The shoehorning of the series against the West Indies at home by the BCCI in order to allow him to play his 200th Test match at home – assuming he avoids another of his numerous injuries – gave the first hint. Was this a stage managed swansong, a not-too-subtle hint that at 40 and with no more worlds to conquer, it was time to bow out?
The perfect farewell should have been at his beloved Wankhede Stadium on April 2, 2011 as his long cherished dream of being part of a World Cup winning India was finally fulfilled.
The cricket world was at his feet, the nation in ecstasy as MS Dhoni followed in the footsteps of Kapil Dev 28 years earlier. The long wait was finally over and what a glorious occasion it would have been for Tendulkar to announce the end of his international career that heady night.
But it was not to be. For at the end of the final against Sri Lanka, the great man was stuck on 99 international centuries. And what followed in England, Australia, India and finally Bangladesh was an agonizing wait for that elusive ton that was to place him in a club of one ? another feat that will never be matched.
It had been 33 innings and over a year without a century in Tests or ODIs until the landmark was finally achieved in painful fashion at Mirpur in the Asia Cup on March 16 last year. The unfortunate fact that India lost the match to Bangladesh was almost a sidenote as Tendulkar's sigh of relief on reaching three figures was echoed by millions of his fans.
West Indies bowlers should provide easy meat for Tendulkar next month, a stage-mannered farewell hardly befitting his saintly stature. Almost three years and 22 Test matches without a century – his leanest trot – just goes to show that not even the greatest can fight Father Time.
Though his last couple of years have been bleak, it would be harsh to judge such a glorious career by such a narrow yardstick. For Tendulkar was the one great unifier who brought the nation together like no other figure post Independence. No film star – certainly no political leader – has quite had that ability. He was left untainted even by the petty parochialism stoked by the Indian Premier League. Wherever in India the Mumbai Indians played, the crowds wanted to see Tendulkar succeed.
His arrival on the international scene in 1989 was a freak of timing. For within a year cable television had come to India. And in 1991, the then Finance Minister Dr. Manhoman Singh opened up India?s markets to the world.
These three seemingly disparate moments in time came together to elevate Indian cricket to where it stands today, the cash-rich beast that seeks to devour everything before it. Who would have imagined 25 years ago?
A massive number of Indian cricket fans have no idea of what cricket is without Tendulkar since 60 per cent of the population is under the age of 30.
What life will be for them without Tendulkar is hard to imagine. What Indian cricket will be without him is even harder to envisage. But what life will be for Tendulkar without cricket is the most perplexing question of all. The nation wishes him well.
This article was first published in dna daily.