Memories in Verse
Gulu Ezekiel |
Following on from his 70th birthday tribute to his old friend Bishan Bedi, Gulu has ventured into verse about four more of his childhood heroes
BS Chandrasekar
The modest match winner

Chandra, the smiling assassin
Deadly with ball in hand
Off the field, none gentler than this gentle man.
Googly, wrong un, top-spinner.
India's greatest all-time match winner.
Polio withered his wiry right hand
Like a whiplash would make the ball land.
Charging in with brutal intent
Now with age, all passion spent.
At Brabourne, Oval, Port-of-Spain, MCG
Chandra in his pomp for all to see.
It was in the summer of 1971
That he had the Poms hopping and on the run.
'Chandra, Chandra, Chandra' the Oval crowd chanted
A famous victory his legendary bowling granted.
Even the mighty Viv turned to 'keeper Kiri in horror
'Quicker than Thommo is your master bowler."
Childhood trauma, setbacks, accidents he suffered
But Chandra, you braveheart you kept smiling, never demurred!
Lover of Mukesh's melodious tunes
When will we see the like of the magnificent Chandra again?
GR Viswanath
The Pocket Dynamo

Vishy, the wristy maestro, Little Big Man
Indian cricket's most beloved across this vast land
It all started at Green Park in the winter of '69
In the first innings came a zero but in the second you become our hero
Twenty-five boundaries peppered that glorious 137 and you never looked back
To the bowlers throughout your career you took the attack
That square cut hit like a whiplash
In a jiffy to the fence the ball would crash
The late cut, delicate as a summer breeze
Hit with such precision, the fielders would suddenly freeze
Green Park, Eden, Chepauk, Christchurch, Port of Spain, MCG…
Another like you the cricket world will never see.
When captain in the 1980 Bombay Golden Jubilee Test
You showed India at its glorious best
England's Bob Taylor you did recall
Even though it meant that India would fall
Two glorious innings against the rampaging Andy Roberts you did play
Never again will we see such as this we did say.
With wrists of hardened steel and a heart of solid gold
the nation's imagination for over a decade did you hold
Modesty thy middle name
But success did not go to your head, nor fame
Vishy, you bloody beauty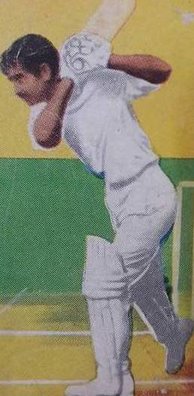 EAS Prasanna
The Canny Offie

Pras, the portly sweaty hangman,
Tossing the ball up as if on an invisible rope.
Just as the batsman would step up to drive,
Seemingly came a gentle tug…the poor guy really had no hope!
Was it sorcery, illusionism or just something out of the blue?
The batsman, the fielders, the 'keeper, none of us really knew.
No doosra, no teesra, just the master of flight and spin,
With those tricks in your bag, how many Tests you helped India win.
The Kiwis and the Kangaroos you foxed and had them on the hop
As that tantalizing floater would suddenly dip and drop
Batsmen with twinkling footwork like Chappell you loved to bowl to
The best offie they ever played of you they said so
Elder statesman of the legendary quartet of spin
Memories of watching the master at work will never dim.
MAK Pataudi
The Prince of Indian Cricket

Tiger, Tiger burning bright
Our beloved skipper who never gave up the fight
Pataudi, Pat, Mansur, Nawab or Tiger they called you
But really, what's in a name?
The prince of tiny Pataudi, the king of a mighty game
Records and runs flowed from your bat when young
Then came the accident that shocked and stung
Months later you were back with just one good eye
A century in your third Test much to our delight
Another accident this time, to Contractor
and suddenly you found yourself elevated to skipper
Pride, passion and lover for the nation
Your commitment to the cause brought Indian cricket great ovation
That gallant 148 at Leeds guided the rocking ship steadily
No wonder they dubbed you the Nawab of Headingley!
Then months later it was at the MCG
two mighty innings despite a leg injury
Proud son of a proud father, who stood up to Jardine
India's finest captain by a country mile!
Your death left a huge void in our hearts
But from our memory you will never depart
This is a family photograph – GE knows not why Tiger has such a troubled look about him!