Full name:
Simon James Arnold Taufel
Born:
January 21, 1971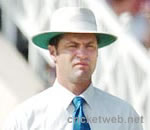 Quiet efficiency is the trademark of the youngest elite level umpire.
Simon Taufel played in the 1988-89 New South Wales schoolboys representative team which was captained by Michael Slater, and had Adam Gilchrist as its wicketkeeper. He went on to play grade cricket in the Sydney grade competitions and began umpiring at the age of 20.
He made his debut as a first class umpire in 1994-95, and at 32 he was added to the Elite Panel of Umpires, and is seen as one of the next generation of top level umpires.
Recently he was named Umpire of the Year for the third successive time at the ICC Awards in Mumbai. Taufel was chosen by the ten Test captains as well as the eight-man Elite Panel of ICC Referees.