Full name:
Mark Richard Benson
Born:
July 6, 1958, Shoreham-by-Sea, Sussex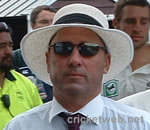 One of the rare elite panel umpires to have played Test cricket, Mark Benson is uniquely equipped to relate to the cricketers under his auspices.
A left handed opening batsman, Benson played for Kent for over 16 years, finishing with a career average over 40, and played in one Test for England against India in 1986.
Becoming a First Class umpire in 1997, Mark Benson had to wait seven years before umpiring his first Test match between Bangladesh and New Zealand at Dhaka in October 2004.
Subsequently being promoted to the elite panel in April 2006, Benson looks set to become one of the very best Test umpires.
Mark Benson had a health scare in December 2006 where he was forced to leave the field during the second Test match between South Africa and India at Durban with heart palpitations. He has since made a full recovery.