Full name:
Ellawalakankanamge Asoka Ranjit de Silva
Born:
March 28, 1956, Kalutara, Sri Lanka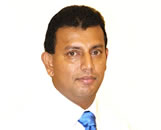 Former Sri Lankan Test all-rounder Asoka de Silva first came to prominence in 2000/01 when he played a large part in calming a tempestuous series between Sri Lanka and England. He was immediately appointed to the elite panel of umpires upon its formation, but after a string of poor performances was taken off in 2004. He has since stood in a handful of games in the year of 2006.