Cricket Coach 2012 Review
It was just over twelve months ago that I sat down to write the Cricketweb review for Cricket Coach 2011. Whilst my overall impressions of the game were very positive, it was prevented from being truly great by a few small niggles which let it down. A year on and I'm sitting down again, this time to review the latest instalment in the Cricket Coach series, and I'm thrilled to be able to say that the issues in the previous games have been addressed, a plethora of new features have been added, and all in all the 2012 version amounts to a significant improvement on 2011's offering.
Cricket Coach is renowned for its enormous depth and wealth of statistics, and once again does not disappoint in this regard. The game boasts accurate statistics for over 4,900 players which are correct up to the beginning of the 2012 season, a more thorough and detailed database than is offered by any other cricket sim currently available on PC or console. This alone is likely to greatly appeal to cricket fans who take a keen interest in the statistical side of the game, but the addition of the new Almanac feature will amount to many a statistician's dream. At the click of a button, it is now possible to instantly compile a 5000+ page HTML almanac, which will detail the results and performances from one season's worth of domestic competitions, test series, ODIs, international T20s and other international competitions, all of which will be based on the occurrences which take place in your saved game. For any player of the game who wishes to truly immerse themselves in a Cricket Coach world of their own creation, the addition of this feature is surely a landmark moment in the series' history.
Not only is the size of the database itself, yet again, very impressive, but there is now more ways for someone playing the game to put to use the huge amount of player profiles and records which are at their finger tips. For example, new to Cricket Coach 2012 is the ability to fully manage U19 and 2nd XI squads. Though this task can be designated to your assistant coach, for those who are so inclined it is now possible to manually manage a reserve team through a full season of fixtures, and run a youth team with a view to selecting which of the best youngsters of each year are deserving of a full contract and a chance in the first team. Other notable new features include the way international T20 tours are now separated from ODIs – with the ability to appoint a specific T20 captain, the addition of the Australian T20 franchise league – complete with player auction, and staged player retirements – which allows for players to retire from one format of the game before hanging up their bat entirely. These are all welcome additions and greatly improve the game's authenticity and sense of realism. The game's interface itself, whilst visually no great advance on previous editions, is once again easy to operate, and the addition of a live games widget – which allows for easy access to matches which are currently ongoing, as well as a new quick search function and a revamped search screen makes the game more easily accessible and easier to navigate than ever before.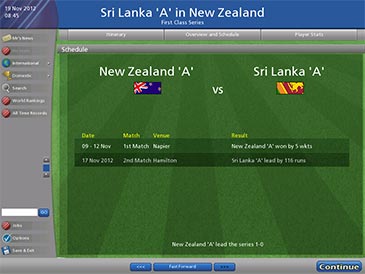 However, whilst the extensive database and wealth of new features are undoubtedly impressive, their overall value would be considerably lessened if the most vital aspect of the game – that is to say, the gameplay itself – was not up to scratch. It was glitches with the match engine and general gameplay issues that proved to be the undoing of Cricket Coach 2011, with freak occurrences, frequent incredulous results and performances, and the ease with which one could pick up a victory undermining what was otherwise an extremely polished and impressive product. When starting up Cricket Coach 2012 to play test it for this review I was worried that I would be in for more of the same. Having now played the game extensively over the last two days or so, I'm thrilled to say that my fears were for the most part misplaced. On the whole, the match engine now plays a lot more smoothly and realistically and the type of annoying freak occurrence that plagued the previous version appears to have all but been eliminated. I have not, for example, witnessed a batsman cutting the ball away through gully for the ball to swirl around in the air and for him to then be caught around mid off, as was known to happen on the 2011 version, nor can spin bowlers be relied upon to dismiss a team for next to no runs with the new ball. Similarly, the way in which you could blitz through games with minimal input and still pick up victories has been curbed, and it seems that it is no longer possible to do this. Rather than coasting through matches hardly paying attention, you're now forced to pay heed to what's going on – the confidence and skill of the batsman, the fatigue of the bowlers, the change in the condition of the pitch or the weather – and adjust your approach accordingly, merely clicking on 'bowl' repeatedly and changing your bowlers once in a while against a good side is likely to see you come away on the wrong end of a hiding. The ability to design bespoke bowling plans for opposition batsmen is nothing new to the Cricket Coach series, but it now finally feels as if the time you spend painstakingly outlining what you expect from each delivery is actually making a real difference, and the payoff is often immensely satisfying. Essentially, the match engine is much improved and delivers far more realistic results, whilst also being far more responsive to the inputs of whoever is playing the game.
Once again the Cricket Coach series continues to offer an experience of unique scope and depth. The possibility to customise and update the already extensive database allows for unrivalled longevity and replay value for all cricket fans, ranging from hardcore tacticians to more casual observers. This time around, however, the database is supplemented by a greatly improved match engine, and as such this 2012 edition is truly a cut above those that came before it. It delivers an immersive, detailed and realistic cricket simming experience, and is worthy of a place in any fan's collection.
8/10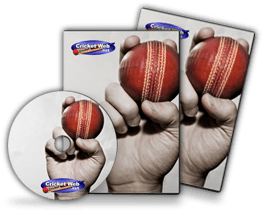 VISIT OUR ONLINE STORE >>