Cricket 2002 Review
Another year, another cricketing title hits our shelves. Usually after 3-4 hours of playing EA cricket games, I'm straight back to ICC, ITC or SWC 99. Not this year.
EA Sports Cricket 2002 has captured the essence of cricket with style and flair. Brilliant graphics and even better gameplay combine to make a truly brilliant arcade cricket simulation.
The game loads with a nice intro sequence, showing off the PS2's power with some great animated cutscenes using the actual in-game graphics. Then it brings you to the menu, perhaps the only shortfall of the game. The menus are generally well set out but some options are either non-existent or very hard to find. The biggest example of this is the English/Australian scoring system option, present on basically all cricket games. I'm still yet to find this and it would be disappointing if it wasn't their!
Anyway, on with the game. For my first match, I had a 10 over slogfest vs South Africa at the Gabba. I lost the toss and South Africa elected to bat. When the camera was panning round the stadium SWC 99 style, I was amazed to see that no detail had been spared! The scoreboard, Electronic replay screen and other smaller scoreboard were all in the right place! Same with the Brisbane Lions Football Club!
First ball – No-Ball. Second Ball – Wide. This continued for the 1st 3 overs, I conceeded 75 runs! Soon after I was starting to get the hang of it, but still conceeding truckloads of runs. Now after 5 hours of play I know the basics – but its still tough!
Ok, South Africa scored 210. Now my turn to bat. The batting engine is brilliant, with the new back foot / front foot options. A shot i was pleased to see in there was the glide to 3rd man. You have to settle yourself in, and no silly shots can be played otherwise you will pay the price! After 1 over, I had the basic hang of it but was still restricted to 40 off my 10 overs, losing 8 wickets along the way.
For the cricket buff, stats a plenty were included, from Bill and Tonys favourite spider graphs to the manhatten graph. Another brilliant feature was the LBW line, which allows you to see where the ball pitched, and where it was hitting. All averages and records are tracked throughout a tournament, but I cannot understand why these weren't included for the full game, so one could build up averages over time.
There are also grounds, tournaments and teams to unlock, so there is plenty of playability in the game.
Cricket 2002 is hands down the best arcade cricket simulation out there! If you have a PS2 and like cricket, what are you waiting for! Brilliant sports simulation.
GRAPHICS – Magnificent : 90/100
SOUND – Richie and Jim Maxwell try their best : 60/100
GAMEPLAY – Get sucked in and think your out there trying to beat the Poms! : 92/100
LONGEVITY – Plenty of things to unlock for the mad keen cricket fanatic : 85/100
OVERALL – You need to play Cricket 2002 : 90/100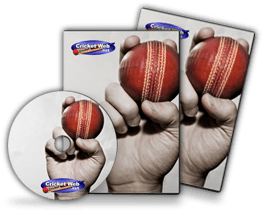 VISIT OUR ONLINE STORE >>