Well he'll certainly have some competition to even be the second greatest Khan given some of the other Khans who have been Khans while also being cricketers but he's off to a bloody good start.
Right now he's got 2099 first class runs at an average of 77 from his 22 matches, which is the second highest first class average of all time (with a 2000 run cut off) behind only Sir Donald Bradman. So it would appear that he compares favourably not only among Khans, but among all other people generally except among Bradmans.
In
this article he says
he would face 600-700 balls a day at Mumbai's Cross Maidan to work on his game after having been dropped from first class cricket. This pisses me off because it takes about 20 net sessions to face that many balls where I play. But good luck to him.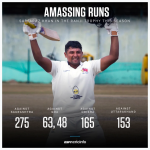 Feel free to keep bumping this thread if he makes the test team, and especially so if he becomes a modern great. Otherwise, feel free to never think about him again.
Mumbai's Sarfaraz Khan.