A Social History of English Cricket
Published: 1999
Pages: 388
Author: Derek Birley
Publisher: Aurum Press
Rating: 4.5 stars

By Gareth Bland
01 Mar 2014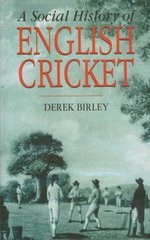 "I received
A Social History of English Cricket
as a Christmas gift and it was only after having cast my initial trepidation aside that I plucked up the nerve and chose to review it. How, for instance, to attempt to appraise a tome that Nicholas Lezard of
The Guardian
felt was
"unimprovable"
. Simon Barnes, reviewing for
The Times
argued that it was so good that it had been
"put together with a view to a shelf-life of a good half-century, and as a work of reference a fair way beyond"
. No less eulogistic was the esteemed David Foot. Birley's volume was, he felt,
"an exceptional example of profound research and wisdom, yet told with elegance, humour and warmth"
.
Perhaps the most profound verdict, though, came from the pen of the late Ian Wooldridge of The Daily Mail. This 388 page volume would, he contended,
"teach an intelligent child of twelve more about their heritage than he or she will ever pick up at school"
. That said, it is not known whether Michael Gove has any plans to introduce the book into the national curriculum, but I would profer that this undoubted classic from 1999 can justifiably lay claim to be almost as important a socio-cultural account of the game and its national significance to the English as
Beyond a Boundary
was from the Caribbean perspective of CLR James.
This was Birley's second major cricketing volume and one which went on to win the William Hill Sports Book of The Year in 1999. Having invoked Kipling in the title of his 1979
The Willow Wand
, Sir Derek Birley was as iconoclastic in that volume as he was waspish two decades later. In
The Willow Wand
he had taken the legendary Cardus to task, chiding him for his romanticism. In the later
Social History
he skewers many a reputation, while adding flavour to the cricketing tales with social, political and cultural context. Particularly enthralling are the chapters on
The Golden Age
and those such as
Flannelled Foolery
, where the author interweaves a narrative of a nation persisting with a system of virtual Apartheid in the game at home - Gentleman vs. Players - with its colonial travails overseas in The Boer War. In short, the game's administrators and the nation's colonial overlords were making very few friends and rather a lot of enemies.
Sir Derek Birley died in 2002, leaving two fine works as his legacy to cricket's rich bibliography. That he pursued a parallel career as an educational administrator, having served ultimately as Vice-Chancellor at The University of Ulster is no surprise. Sir Derek had championed Widening participation to higher education before it became a fashionable term, and having devoured his two works, this comes as no surprise. A Yorkshireman, a central tenet of
was the inherent bias perpetuated in favour of the southern counties by the game's administrators. This is as important a thread to both works as the divide between Gentleman and Players.

A northerner and a man of clearly leftish sympathies, one could almost have been forgiven for thinking that the book bore the imprint of that other Yorkshire lad and cricket fanatic turned educationalist, Roy Hattersley. It comes as little surprise that the two were born just six years apart. It is often argued that the test of such a work as this is the attractiveness to the lay reader. This is such an absorbing read that it would be a worthy purchase as a piece of social history alone. I could add minor gripes, such as the profusion of quirky facts and anecdotes to colour the social history, but these do not detract from the enjoyment to be had here. I do not claim to be sufficiently expert to assess whether or not Derek Birley's second major cricketing work will stand Simon Barnes' test of a longevity stretching beyond half a century. Neither, though, would I bet against it."