Where did it all go wrong?
Mathew Sinclair |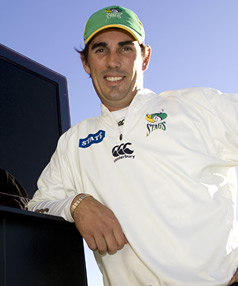 The season has finally drawn to a close, bats and cricket equipment put back into cricket coffins for the winter.
It has been a season of a lot of ups and downs both internationally and domestically. The State Championship final between my team the CD Stags and the Auckland Aces was a huge disappointment with us coming second. The realism is that we have been there now, and can build up over the winter to be better than before. We had the comings and goings of the West Indies and more importantly for New Zealand Cricket's bank balance an Indian team that will be sending Christmas cards over to NZ, maybe more so from the batsmen than the bowlers.
I guess from a spectator's point of view we actually got to see some big cricket scores posted up over the season as well as some fantastic individual performances. My highlight of the season was Sachin Tendulkar in the one day game and Test match arena. In both forms of the game he showed his master class in building an innings and making them count. I'm sure the Kiwis took note of this and we too had our own success with the bat after that, but not yet in the same class as the Indian batters.
My feeling is that if NZ is serious about Test match cricket and the performances that have been lacking of late, extra effort has to be put into playing more Test matches involving our future Test and 'A' players. This I believe needs to start over the winter in Australia with more cricket played with the red ball instead of feasting on a diet of Twenty20 and one day cricket. If we are to get any better in Test match cricket we need a greater emphasis in this area because quite frankly we are being shown up by the best and although there is slight improvement there is still a lack of real Test match character.
Domestically the season itinerary has been a smooth one where the weather has been good and the wickets playing very well. I would like to see a bit more scope for spinners to come into play rather than the seamers. I think we here in NZ play spin very poorly and lack the quality of spin bowlers to test us. Spinners play a really important role in any team, they test the batsman's patience, and their ability to work the ball around the field providing a sound defensive game. Too much do we rely on Dan Vettori as our number one bowler to win us games and/or tie down an end. With producing wickets that offer spin rather than flat batting roads we can start to see where our next Dan Vettori will come from. Team selections here in NZ always leave out spinners due to our non turning wickets so I would like to see a shift in mentality and make them first pick in selection.
Personally I had a really good season this year, the added motivation to do well that leading a team does really brought the best out of me. As it was my first year captaining the Stags by no means was it an easy affair, the disruption of England A coming over and Black Caps selection really tested our core team. Some really good things came out of it but we lacked a lot of continuity after Christmas which tested our culture in a big way. The good was seeing players from the Stags stepping up for the Black Caps and certain individuals playing in NZ 'A' teams. The bad was of course our ups and downs of team performances, brought mostly I say out of our lack of execution from the bowlers, a very inexperienced bowling line up and injuries making the job that much harder. For the Stags to be competitive next year we need either a quality spinner or an all rounder that offers us options with the bat and ball for the whole season. So much emphasis is now being placed on Twenty20 and the money on offer overseas for the winning domestic side. Having these types of players will give us the experience that will make us a much better team.
I have definitely enjoyed my season as Stags captain and would love to continue on with the job in the hope of holding up a trophy. If i keep continuing on in getting runs at this level, hopefully some higher honours will come my way with what is going to be another hectic season.
The winter will be a quiet one for me as I contemplate my next move. On the other hand the winter season for the Black Caps is once again a full-on one with Twenty20 and one day cricket. Exciting times are ahead with this group of players, as they travel the world showing off their cricketing skills. We are always competitive with the white ball and I expect a high finish in this year's Twenty20 World Cup but I guess it will be the same as it always is for the Test match team.
The team at Cricket Web have got some exciting new developments coming up and I won't let you know what they are just yet but we will keep you in the loop as I look forward to your responses.
Until my next blog entry now is a great time to reflect and a time to rectify the wrong doings.
Yours in Cricket