The swagger is back!
Paul Wood |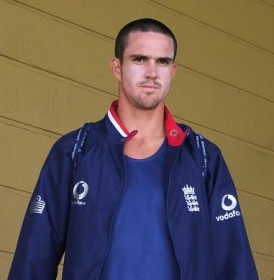 It's been a long wait for Kevin Pietersen, this was his 18th Test since he smashed his last hundred at the Queens Park Oval, Trinidad, his 28th innings, and finally that particular monkey has been comprehensively removed from his back.
Pietersen showed all his famous traits during his innings, and indeed Test best score, of 227 at Adelaide in the latest Ashes Test. The confidence he talked about in the summer time that had ebbed away was back in full force as he shimmied across his stumps and flicked the ball effortlessly through his favourite mid wicket area. Perhaps the only thing missing from this innings was an outrageous switch hit, but KP had plenty of other scoring options without taking unnecessary risks.
It was 176 for two when KP strode out with his usual purpose. The ball was soon in Xavier Doherty's hands as Australia are working on the theory of his bewildering weakness against left-arm spin, but there was no evidence of that in Adelaide. There was an early scare when Pietersen sliced an intended drive over the top that landed in the space behind the cover/point fielder, from there though he assumed complete control.
During that aforementioned series in the West Indies, they were working on an alternative strategy to dismiss England's danger man. Full and straight was their M.O. Jerome Taylor executed this plan to perfection on one or two occasions, but like all top batsmen Pietersen found a way to combat a perceived weakness. He talks of having no problems against left-arm spin, but as Nasser Hussain pointed out, he keeps getting out against them. Is it a coincidence, has it become more a mental than a technical problem, or has he got too complicated in his plans to combat that particular style of bowling.
Well here it was back to basics, KP's basics is simply see the ball, and slap it! He was much more positive, using his feet, going long over the top, and sweeping with absolute authority. Will Pietersen worry that it was Doherty that finally got him ? Absolutely not.
From an English perspective, it was a joy to watch the great man back in the kind of mood and form that can destroy any attack on any given day. So what has transformed KP back into the confident batsman we became so used to watching ? According to the man himself, the time he spent back in South Africa before this series working with his old friend and coach Graham Ford was most beneficial. He reminded KP of things he had perhaps neglected, he knows him inside out, and they worked for hours on end each day. No-one can accuse Pietersen of not putting in the hard yards, his hunger for perfection and greatness has meant hard graft is a prerequisite.
This Adelaide pitch was in truth ideal to bat on. That is not to detract from his efforts, but there was little movement off the pitch, to the quicks or spinners for the most part of his innings, while swing was also at a premium. Verdicts on this Australia attack are contrasting, they are clearly some way behind the attacks of years gone by, and while they are 100 per-centers they do lack the penetration and consistency to trouble batsmen on a flat deck, let alone taming an in-from and hungry Pietersen.
An authoritative stride forward, standing tall at the crease and punching the ball on the top of its bounce are all traits associated with KP and were well demonstrated in this second Test. At Perth he may be tested further with some short stuff, but Australia must beware – the man with the insatiable appetite for the big occasion has his swagger back.