The Ashes Fantasy Cricket Comp.
James Nixon |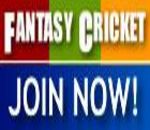 The Ashes Fantasy Cricket competition has been created and is ready for you to start selecting your dream team.
Some great prizes have been provided by the world's number one cricket store World Cricket Store for the top three placings in this competition.
The prizes are:
1st Prize: 75 pounds worth of vouchers
2nd Prize: 50 pounds worth of vouchers
3rd Prize: 25 pounds worth of vouchers
If you have yet to register, you can do so here. If you have already registered, you can logon here.
Best of luck!