New Competition – Indian Premier League 2014
James Nixon |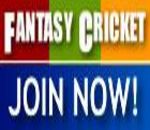 We have opened up our competition for the upcoming Indian Premier League which is named Indian T20 Tournament 2014. As always it is 100% free to join a Cricket Web Fantasy Cricket competition.
Please keep in mind that the fixtures haven't been fully finalized and only the matches being played in the UAE are shown at this stage.
For those of you that are new to the Fantasy Cricket concept, we would suggest you have a read through our Game Guide which explains everything to you.
Once you are ready to go, head on in and Register and don't forget it costs you absolutely nothing! If you have registered in the past for Cricket Web Fantasy Cricket or Cricket Web CW Games, you can login to your account through the Fantasy Cricket frontpage.
If you have any questions or problems, please log a Helpdesk call. Please let us know if you notice any missing players from the selectable list so they can be added.
Specific Details of the Competition
* Free no cost modifications until 16th April.
* 200 modifications allowed once the competition starts
* A captaincy change will cost two modifications. As explained on the Game Guide page, your captain earns you double points, but you also lose double points.
* Details on how you score points can be found on the Points Summary page.