Cricket Coach - September 05 Interview
CricketWeb.net's interview with Oli Norwell and Glenn Stiemens of Rockingham Software, about their new game Cricket Coach. Due for release later in the year.
NOT TO BE RE-PRODUCED WITHOUT PRIOR PERMISSION OF CRICKET WEB
Can you explain the major differences between Michael Vaughan's Cricket Manager and Cricket Coach?
Glenn: Everything. You are looking at a complete overhaul. The user interface, match engine and general gameplay has been rewritten from scratch. MVCM has had an influence on Cricket Coach but we were keen to make a fresh start with a more in depth and flexible code base.
Initially users will notice that the look and feel of the game is so much different but once they delve deeper into their careers on the game, they'll notice so many subtle improvements, for instance from varying playing conditions depending on the day of the match (so you'll get slightly different times for sessions on the fourth day of a county championship match in England for instance), to triangular tournaments for international teams.
Oli: Yeah, I'd say the user interface is about a million times better, it's taken a very long time to get it done but I think people will appreciate how much easier it is to use than MVCM was.
After MVCM was released in 2001 I spent until early 2004 working on a sequel based directly on the MVCM source code. It became apparent though that this would never quite be as good as I'd hoped, it suffered from the same interface problems that MVCM did. Also I had so many new ideas that could never be bolted on.
So in May 2004 I made the huge decision to scrap everything that had been developed previously and start from scratch.
From June 2004 until the present day I have been working on an all new game, in October 2004 Glenn joined me and we've worked in tandem ever since. As you'll see from the screenshots this game is far better looking, and is far more flexible than MVCM, there are so many new features to talk about; you will have to play the game to see them all!
There have been rumours of an International Cricket Captain type display for showing the action rather than standard text commentary. Are you able to confirm anything here?
Glenn: Yes, I can confirm that Cricket Coach will come with a top down 2D view of the action complete with text commentary. This is a first in a cricket game. You will be able to click on individual balls and view highlights, view the whole match, or just view a selection of balls as they happen (for example wickets being taken).
Oli: We're going to release a screenshot of this as soon as we're happy with the final layout of the match screen. The 2D view really adds to the gameplay, each ball is unique so you'll never get bored with watching fours or sixes.
The 2D view totally changes the way matches are watched, in MVCM you had a static scorecard to look at, here you have cricketers moving around a pitch, so you can actually see what is happening and adjust your tactics accordingly.
What do you think sets Cricket Coach apart from International Cricket Captain 2005?
Glenn: It's a tough question to answer having not actually purchased International Cricket Captain 2005 myself. I would say though that Cricket Coach offers many exciting features (that may or may not be included in ICC 2005) such as a top down 2D view, text commentary, domestic competitions from around the globe and managerial career progression (sackings, resignations etc). The only true way of finding out what separates the games will be giving both a play.
Oli: I'd say there's more to do in Cricket Coach, and it comes complete with far more stats. I got bored playing ICC, with the variety of game modes available in Cricket Coach I doubt this will ever happen.
What are the minimum and recommended system requirements?
Oli: I'd say something around a 700MHz CPU, with 128MB Ram should just about be able to run the game. Ideally though you would want something more like a 1.2GHz + processor with 256MB Ram. The demo version will allow people to assess how their computer runs the game.
Do competitions such as the ICC Trophy, Champions Trophy, and World Cups occur on a regular basis throughout the game?
Glenn: Yes, the World Cup appears on regular four year cycles. We're quite proud of the international management features in Cricket Coach – all tours and triangular tournaments are realistically modelled. We also have an up to date rankings system for the test and one day international championships that makes it quite a challenge to firstly reach number one in the world and then stay there!
Are Associate members such as Holland, Scotland, Kenya, Ireland, etc included?
Oli: They are included yes. We have gone to extra effort to ensure a good selection of players are available from these countries.
Will there be online play?
Glenn: Not in this version, no.
Oli: It's something we will consider in the future.
What values will go into determining the result of a delivery, ie what attributes are players rated in?
Glenn: Players are rated in all the key areas ranging from playing shots off the front foot to how much movement they get in the air when bowling. Of course though, just having high scores in these departments won't necessarily make for the best players – they will need to play themselves into good form.
Oli: Yeah we've made sure that the match engine isn't as predictable as just a set of skill numbers. Form, conditions and strategy all play a huge role in the outcome.
Will we see the new look English domestic structure for 2006 (revamped TSL + C&G)?
Glenn: Yes, the changes to both the domestic and international calendars in England will be reflected in the game.
How many domestic leagues?
Glenn: As with MVCM, we have included all the major domestic competitions from the ten test playing nations (Australia, Bangladesh, England, India, New Zealand, Pakistan, Sri Lanka, South Africa, West Indies and Zimbabwe). All are fully playable.
Budget, contractual and finance options? Anything beyond just youth/coach/physio?
Oli: Each county/state has a wage budget; your ability to sign players depends on whether you've used up your allocation for the year. As for contract options they closely model real life, with central contracts and overseas signings adding to the choices you need to make.
Glenn: You won't be able to directly influence your budget – that is something your club's board will handle. It will have an impact on how you'll manage your transfer policy though – if you have limited success in the domestic competitions you'll struggle to fit all those quality players into your wage budget.
What part of Cricket Coach are you most proud of?
Oli: For me it's the all new interface and graphics engine, the game really is easy to play and navigate around. We've also got a much better match engine than MVCM, capable of displaying what's going on much more clearly.
We've got games running over the correct amount of days, so Test matches really do go on for five days. At the end of each day you are returned to the main menu where you can go about your usual daily tasks, before returning to the match the next day.
The all new game engine has allowed us to run matches in parallel, so whilst playing your match you can quickly check up the latest scores from around the grounds, all updated ball-by-ball.
Glenn: I'm sure most would say the 2D view, but for me it's just the overall enjoyable gameplay. Although, if I had to pick out a specific part of the game it would be the international management experience – nothing quite beats finding out that Vaughan and Harmison have been injured for the 4th Test of the Ashes summer, and that you'll have to engage similar talent spotting brilliance of your predecessor Fletcher to find suitable replacements!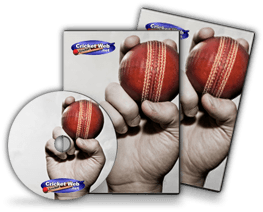 VISIT OUR ONLINE STORE >>