David Warner: The Bull
Martin Chandler |
Published: 2023
Pages: 268
Author: Piesse, Ken
Publisher: Wilkinson Publishing
Rating: 3.5 stars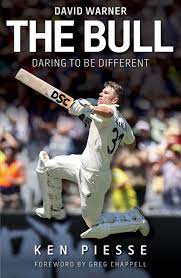 David Warner has been part of the fabric of world cricket for more than a decade, and has always been a controversial figure. As an Englishman I have to concede that many of my countrymen detest the man, and that is something that will inevitably colour their attitude to any book about him. Indeed I dare say there are a goodly number who will not even bother to read this review, such is their antipathy towards its subject.
My own view? I can't say I am a fan of Warner, but whilst I can see where his detractors are coming from to me he has always been more of a pantomime villain than anything else. He has obviously been a top class batsman throughout his career and, whilst he has been scoring runs against anyone other than England I have enjoyed watching him, I certainly haven't taken any pleasure watching him putting English bowlers to the sword in Australia very much. On the other hand I have taken as much pleasure in his travails in England as any of my countrymen.
Author Ken Piesse is an Aussie however, and whilst his book on Warner's life is by no means a hagiography, he admits that the research for the book made him warm towards his subject. I wonder how he felt therefore on the morning of Tuesday 31 July. He has clearly been working on this unauthorised biography for some time and, in ending his narrative after this year's World Test Championship final, had made the decision not to wait to complete it until after the conclusion of the 2023 Ashes.
In the event the entire series was, of course, a stunning spectacle, each game ebbing and flowing and the final day of the series set up for a grandstand finish. It might have been that for Warner too. After an uneventful series on a personal level he stood at 58 not out overnight, and there was the possibility that he might lead Australia to victory with the century in England that had always eluded him. Would Ken have felt obliged to pull the project to add an extra chapter or two if he had? It would have been tempting I am sure, and I suspect that, loyal Aussie that he is, there would have been just a tiny part of Ken Piesse that was a little relieved that the last page of the 2023 Ashes story was written for Stuart Broad rather than David Warner.
So all was well for the August launch of David Warner: The Bull, a project for which there was never going to be a shortage of material. The two best known controversies to have afflicted Warner's career are the incident in 2013 when he punched Joe Root in a Birmingham night club, and most important of all the 'Sandpapergate' episode in Cape Town in 2017/18. I soon learned as I read Ken Piesse's narrative that there have been plenty of other tricky moments that Warner has had to deal with.
In the same way as most Englishmen whilst I had heard of Warner before the Root incident, I had never been sufficiently interested in his back story to find out what it was. One thing I certainly didn't realise was that by then he was already 26, and did not have much of a history in the First Class game. Warner misspent his youth by specialising in the game's shorter formats, with prodigious success, and Ken tells the story very well. In doing so he also told me as much as I wanted to know about Warner's background. I dare say that Warner's autobiography, which I am given to understand is in the course of preparation, might deal with that in more depth.
Warner himself has not been involved in this project, although some who have been close to him, as well as the great and the good of Australian cricket all seem to have been, an example of that being a generous foreword from Greg Chappell. Those public utterances that Warner has made over the years were, by their nature, available to Piesse as well. As a man who has written upwards of 60 cricket books in the past Ken well knows how to tell a story and hold his reader's attention, so the book is an easy and entertaining read. For those who don't much care for Warner I don't suppose their views will be changed, but if they read the book they will certainly understand The Bull a little better than they do now. This one is well worth reading.
The book is published in paperback, but for those who like that sort of thing there is also a limited edition of 200 signed hardbacks available
directly from Ken