Top Five Bangladesh Cricket Players of All Time
Matthew Beak |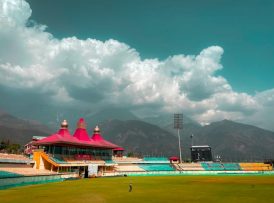 Cricket is an enormous sport in Bangladesh. The country is a recognized international cricket powerhouse alongside other cricketing nations such as India, Pakistan, and South Africa. Although cricket has always been incredibly popular within the nation, it has even further grown in value and quality in the past few years.
The country has consistently qualified for every single cricket world cup since 1999. However, it was not until recently, in 2015, that they achieved what would arguably be their highest achievement in international cricket. They defeated India, Pakistan, and South Africa, three world cricket giants, to reach the quarter-finals of the Cricket world cup.
The recent development in game quality and prominence is also reflected in the rise in significance and value of the country's newly founded domestic cricket league, the Bangladesh Premier League (BPL). In just ten years, the league has quickly grown into one of the top domestic cricket leagues in the world, alongside the Indian Premier League (IPL) and the Big Bash League (BBL). Like the IPL, the league has gained international recognition and is featured alongside other prominent cricket events on https://bd.parimatch.com/en/cricket-ipl and several other international betting platforms.
The sport's domestic and global significance has also drawn attention to great Bangladeshi cricketers who are referred to as legends of the sport. These players have received the highest honors in their careers and have contributed significantly to the development of cricket in the country.
The article will discuss some of Bangladesh's all-time cricket greats.
Shakib Al Hasan
Shakib Al Hasan is widely regarded as the most excellent all-rounder in Bangladeshi cricket history. The 35-year-old is well-known for his aggressive left-handed batting approach and devastating slow left-arm orthodox bowling spin.
Shakib started playing cricket at an early age, climbing through the Bangladesh national cricket team's development system before making his international debut in 2006. Over the years, the player has amassed an incredible list of accomplishments, including three Asian Cup runner-up finishes. He has appeared in almost 500 official cricket matches across various versions of the sport, and he currently plays for Fortune Barishal in the Bangladesh Premier League. He is also the current captain of the Bangladesh National Cricket team.
Tamim Iqbal
Tanim Iqbal is a household name in Bangladesh cricket. He clearly does not need an introduction, as his endless outstanding batting records speak for themselves. He is regarded as the greatest batsman in Bangladeshi cricket history. The left-handed batsman was the first Bangladeshi cricketer to reach 14,000 international runs and the only one to achieve centuries in all three formats of the sport. He also holds the record for most centuries in international matches across all three formats.
Mushfiqur Rahim
The 35-year-old right-handed middle-order batsman and wicket-keeper are also one of Bangladesh cricket's iconic names. The former captain and vice-captain of the Bangladesh national cricket team was famously known as "Mr. Dependable" among Bangladeshi fans due to his extraordinary versatility. He is regarded as one of the most consistent players in Bangladeshi cricket, scoring more than 1000 runs across every version of the sport.
Mashrafe Mortaza
Mashrafe Bin Mortaza, politically known as Narail Express, is one of the best bowlers in Bangladeshi cricket history. He was regarded as one of the fastest Bangladeshi bowlers of all time. As a youngster, the player quickly got on the international cricket scene after a series of impressive bowling performances as an under-19 player. Based on his remarkable cricket career, he certainly lived up to the hype, eventually becoming the Bangladesh national cricket team captain. He is also recognized as one of the finest Bangladesh national team captains of all time, especially in ODI and T20 cricket.
The player announced his retirement from T20I contests in 2017 and stepped down as captain of the ODI series in 2020. Although he has not formally retired from ODIs, he is no longer a regular player. He has since pursued a political career, and he is currently a member of Parliament for the Narail-2 district.
Mohammad Rafique
Mohammed Rafique is yet another brilliant all-rounder in Bangladeshi cricket history. He was a member of the 1997 Bangladesh national squad that won the ICC trophy, and he was a key player in their win, taking 12 wickets in the tournament. He eventually became the first Bangladeshi bowler to take 100 wickets in Test matches. In 2008, he declared his retirement from international cricket and is now pursuing a coaching career.
Conclusion
Bangladesh has produced a lot of world-class cricketers who have clearly earned a name for themselves in the sport. Besides the players mentioned in this article, other legendary Bangladeshi top cricketers include Habibul Bashar, Abdur Razzak, Mohammad Ashraful, Mahmudullah, and Khaled Mashud.