Cricket 2007 - Hints & Tips
In a 50 over one day game, bowl around the wicket when you are using pace bowlers. Bowl yorker length and make sure the ball is pitched between the bat and the toe. You are sure to bowl the batsman out. Yes, you may be hit for a couple of sixes, but 9 out of 10, the batsman is bowled. In this way, I had England bowled out for 85 in a World Series game against the West Indies, with Jerome Taylor taking 6 for 39 in 10 overs and Dwayne Bravo chipping with 3 for 15 from his 8 overs. – Suggested by Kannan Venkatraman.
Take a wrist spinner and keep varying his length, you are sure to restict the batsman to singles. – Suggested by Kannan Venkatraman.
While setting the field, for the first 15-20 overs, where only two fielders are allowed the 30 yard circle, select Open 5, i.e. you have a fine leg and long on outside the 30 yard circle. Once the field restrictions ease out, select Defend 5 or 7. – Suggested by Kannan Venkatraman.
Ensure that you have all the attributes you need in a player when you 'create' one. Else, the bowler will have only one type of delivery to bowl. – Suggested by Kannan Venkatraman.
Always have a deep cover on the fence and have the pacemen bowl just outside the off stump on the popping crease. The cover drive will land right into the cover fielder's throat on the fence. – Suggested by Kannan Venkatraman.
On a green wicket, ensure you have fast bowlers who can move the ball both ways.(the attributes of the bowler will define the nature of his bowling). Try to pitch the ball on the grassy areas on a good length spot. The ball will do the tricks and have the batsman in all sorts of trouble. – Suggested by Kannan Venkatraman.
Now, play County Cricket with your own International Stars. Go to any county, click on the player you would want to replace. Then select the player from any country you wish and 'click on insert. The existing player is replaced with the new player. Further you can play world XI with any country. Amazing Game. – Suggested by Kannan Venkatraman.
Select Level three to play and play fast bowlers who can swing the ball both ways. Win the Toss and field on overcast conditions. Pitch the ball on or just outside the off stump on a good length spot. You will have edges carrying to the keeper. – Suggested by Kannan Venkatraman.
If you're playing first-class cricket, then go to Team Management and select a team. Then replace the rubbish players from good teams eg. Australia and then your team will be invicible and all you have to do is autoplay in the four day tournament and watch your team dominate.- Suggested by Dave.
In a Test match, always play two wrist spinners (created players with 95+% of accuracy,spin and all varieties of bowling). Induct them to bowl after8-10 overs in the first hour of play and bowl just around the leg stump for wrist spinners. With a Attack 3 field, you can have excellent close in catches taken – Suggested by Kannan Venkatraman.
When bowling bowl on around the wicket with a right hand bowler to a right hand batsman and bowl at his feet or a bit infront and swing the ball to off stump as much as you can with max speed and you will get them out every time. I got 6 wickets off an over. Also if you can bowl a yorker with the specaial deliveries make it a bouncer and it will turn into a yorker and make it max pace and you will take the bails off every ball again. I got 6 wickets doing this in one over. – Suggested by John Rox.
Many people don't know how to get two player with Cricket 2007. To get this feature you must install an analog game control like a joystick. I bought a joystick and me and my brothers compete everyday against each other. Its easier to bat with the keyboard so we reassign controls after each innings so tht the batting team uses the keyboard. Really kool features!!! – Suggested by Khadir Manjoor.
Always play in New Zealand at Auckland as it is very small ground, you will hit a lot of sixes – Suggested by Amika Kapoor.
When you create own playeers, ensure you have all 100% attributes for a fast bowler. You are sure he will take the maximum wickets in an innings. Also have a slip fielder throughout the game and any ball pitched on a good lenght spot on or around the off stump will have the slip fielders busy. – Suggested by Kannan Venkatraman.
Play any country in New Zealand on a damp wicket with overcast conditions. Start bowling with spinners (ensure that they have 100% attributes) and you can bowl out teams for very low scores. I got NZ out for 28 and 24 in two games. – Suggested by Kannan Venkatraman.
When you want to start a game go to my cricket then game settings.change the auto fielding to semi auto, it helps you a lot. You can throw at the bowlers or keepers end or you can even move the fielders, you can even have a direct hit at the stumps. – Suggested by Najiullahkhan.
I suggest you guys to bowl right arm over the wicket to right handers and the other way around to left handers. In this way I was playing Sri Lanka v Australia and I got out Australia for 3 runs. Chaminda Vaas took all 10 wickets. – Suggested by Dinelka Balasuriya.
Bowl from around the wicket to the batsmen. Bowl good length yorkers between their toes and the bat using 'A' or 'W'. They will be out – 99% … some of them may go for a 6! I played against England and got them all out for 3! – Suggested by Bharadwaj.
Use any left handed off spin bowler and pitch the ball between the on-strike batsman's toe and bat. Make sure its a slower one. Grant Flower once took 9-3 in 4 overs!.Cheers enjoy. – Suggested by Sameer Roopawalla.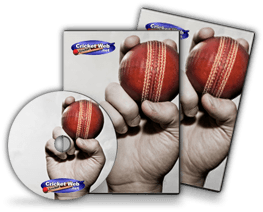 VISIT OUR ONLINE STORE >>