Brian Lara / Ricky Ponting International Cricket 2005 - Post Game Interview
Cricket Web have conducted an interview with Peer Lawther, the Codemasters Web Editor and Liaison Manager asking him a series of questions following the launch of the game.
What have you been most pleased about with the game?
I think what's pleased me and Codemasters is the way that people have returned to the game so quickly – that even with six years away from the crease the game comes back all guns blazing and grabs the number one spot in the UK All-Formats charts for four weeks. Before Brian Lara International Cricket 2005 no cricket game had ever even been to number one – now BLIC is the biggest-selling cricket game ever. And a lot of thanks are due to the fans and customers that went out and bought it, and enjoyed the game along with the Ashes series the summer.
From a gameplay point of view – and this is a personal opinion – I think the pick and play aspect of the game was fantastic. I loved that. I understand completely that is wasn't to everyone's tastes but from my point of view, when I got in from work and need something to relax with, or when I've just got back from the pub with the lads, we'd be straight on with the Brian Lara!
And least pleased about?
I don't think there was much we could say we were displeased with – we were overjoyed with so much. The things that we wished we could have done better were smaller parts of the main package – bits that we wished we could have put in there given time, and things that came to light after launch that gamers wanted to see in there.
But all in all, there wasn't a disappointing aspect to the game really.
Were there any features you wished could have been done but couldn't for certain reasons? Any comments on the exclusion of Data editing and Stats tracking?
For me, two words – online mode. That for me would have been excellent. But as was the case with a lot of the ideas the forums came up with and/or commented on after launch, we would have loved them to be in there but for the time constraints.
We felt we had a great game that should come out to tie in with the Ashes series – but that doesn't mean we didn't think about other things that could have been in the package but for time.
The data editing and stats tracking were oversights that didn't work out as expected and we were disappointed about the implementation. But we'll work hard to get these things correct in future versions.
Are we likely to see a patch to address some of the gameplay issues, e.g. Craig 'Shoaib' White, CPU AI during an ODI?
No patch unfortunately – with the sale of Swordfish after the game's release and head designer moving on to pastures new (and taking up his cricketing career back in Southern Africa again) there wasn't the resources to implement a patch.
This obviously caused some consternation on the forums but the resources were just not available. This is the one thing that I reported back as the number one concern of the forum and the fans – so we have the resources with future versions to address any issues that may arise after launch.
Although we'd prefer if we got right first time of course!
Do you consider it to have been a good move to rename Brian Lara International Cricket 2005 to Ricky Ponting International Cricket 2005 in Australia and New Zealand and set the different release date?
That's not a question I can answer really – it was a decision we came to with much collaboration with Atari, our distribution partners in Australia. They advised that would be better coming out after the Ashes series in the build-up to the new Australian season and we were happy to go with what they thought was best for the fans there – perhaps they (like most people) felt the Aussies would come back with the Ashes and that would have been brilliant timing to coincidence with their launch of the game.
Looking forward, for any future versions, I'm sure Codemasters and Atari will work together and make sure the date is the best for the fans, now that the game's a hit there as well.
A bit part of developmental process was the involving of the general internet gaming community in suggesting features, the answering of questions, etc. Is this something Codemasters feel has benefited the game and are likely to continue with in future?
Due to time constraints it couldn't affect this release as much as it could have; simply because by the time we announced the game we were working hard to get the basics correct. But we listened to people before launch and we certainly listened to them after launch – I'm employed to chat with the gamers and pass back all ideas, comments, feedback, criticism that we come across. And I'll guarantee that I certainly did that with BLIC – I think some people were sick of me emailing through comments in the end!
But giving feedback straight away after the launch of a game helps – if we're planning another game in the series then we can see precisely what went right and what went wrong and exactly what the fans think is missing or can be improved for the next one. And to be honest, a lot went right first time, which is a good sign!
For the next one we will certainly be involving the community more – talking from a personal point of view again I've developed and built a good community for our LMA Manager series of games and I can't see why I can't do the same for BLIC.
Are there any plans for a sequel? If so, what parts of the game do you see being improved upon?
Nothing to announce yet (and probably not for quite a few months) but I'd certainly expect a new game, probably around the time of one of the two biggest cricketing occasions of late 2006/early 2007. I'll leave it at that for now.
Improved on? Well, it's difficult as I don't know what any future version's design would be based around – I'd assume that things such as the AI would be ramped up and improved (especially the batting AI and the bowling on the hardest level – to make it 'hard' and give the professional gamers more of a challenge).
Frontfoot/backfoot shots, improved fielding (throwing the ball to both ends of the wicket) and career stats – I'd love to see them in the next game.
Obviously, these are on my wishlist as well, but we are certainly aware that these were the things that came back from the fans from this year's version. But we weren't too far away from the perfect cricketing game this year so really we'd just concentrate on making it even tighter, sharper and more fun to play.
And finally, what are your thoughts on England's recent 2-0 test series loss to Pakistan?
No comment! I'd check out Shaun Udal's bat during the ODIs though – he's got a famous cricket videogame as his sponsor during the tour!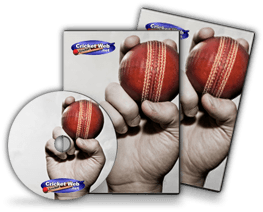 VISIT OUR ONLINE STORE >>