Brian Lara Cricket 99 - Hints & Tips
Learn how to bat and bowl by using easy mode and playing teams like Bangladesh who aren't very good at batting or bowling.
Australia is a good start. With world class batting and bowling its handy to be Australia until you get the hang of the game.
Left handed batsmen play the square cut with style. Right handed batters are effective on scoring on the off side as bowlers bowl that side.
A great tip is to always watch the ball onto the bat. Sometimes trying to just slog the ball proves nothing and low scores keep occuring.
Exhibition Matches are a great way to play other teams and figure out their strengths and weaknesses.
In one day matches, during the first 15 overs, play the onsidem drive which frequently results in fours. However, doing it too often will result in an edge to the keeper.
For more effective bowling, it's always best for pace bowlers to bowl around the wicket. In doing so right handed batsmen play defensively and more often than not you'll find a quick wicket with the left handed batmen (if you do this and you play manual fielding you can get quick run outs that way).
Also when battting the left handed batmen will always have there way with bowlers comming from over the wicket. Whenever you begin a batting inning, the feilders are always are close. Since the majority of the bowlers in the game are right handers comming over the wicket, the left handed batmen are perfect for lifting those balls over the fielders for quck runs and boundaries.
Finally never underestimate manual fielding, it maybe difficult in the beginning but when you get the hang of it, you'll be able to stop alot of boundaries and runs that way. And you'll be surprised at how quick you can run out some batsmen this way
When batting against quick bowlers, watch the bowlers hand, play your shot just as he releases the ball. If you are facing a medium pace bowler then play your shot a fraction of a second later. This always works apart from when he bowls his slower ball (you'll have to pick that one).
The leg glance with the six hit butten is the savest way to score sixes, but the ball is not allowed to be pitched too far away or the ball will go straight in the air
When batting time the ball a little late and press the 'hit for 6 button' and it should go for 6 or 4 but if you're too late you'll miss the ball or get caught.[Be careful hit only shots with gaps or you will get caught].
Bowl a good length just outside of stump and put diagonal turn to the right. The batsman will either whole out around mid-on or miss completely, and be bowled.
Cheats:
| | |
| --- | --- |
| Effect | Password |
| All the matches are released | pancake |
| Unbreakable Stumps | solidoak |
| Always Win | get bribe |
| Slippery Ball | drop ball |
| Get a Beach Ball | big balls |
| Play 10 days match | multiple test |
| Players Swearing | dont messe with me |
| Cars on Ground | pit mobil |
| Audience Chucking Stuff | angry crowds |
| Batsmen not getting out | superman |
| Play at the Beach | sunshine |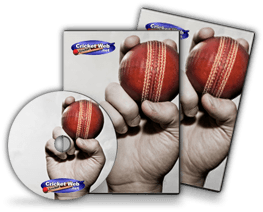 VISIT OUR ONLINE STORE >>