Wilfred Rhodes: The Triumphal Arch
Martin Chandler |
Published: 2021
Pages: 408
Author: Ferriday, Patrick
Publisher: Von Krumm Publishing
Rating: 4.5 stars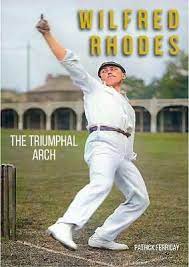 In the annals of cricket Wilfred Rhodes is many things, the totality of which make him one of the most interesting men to have played the game. For a start he is a statistical colossus, with records with bat and ball that will stand forever. No man has approached or will ever get close to his 4,204 career wickets, or his 16 doubles in an English season, and only nineteen men have exceeded his 39,969 runs*.   
Inevitably with records like that to his name Rhodes' career was a long one, and stretched from 1898 to 1930 when, at 52, he finally decided that enough was enough and that he could depart his beloved Yorkshire safe in the knowledge that, in Hedley Verity, the White Rose's tradition of orthodox left arm spin bowling was in safe hands.
In a remarkable playing career Rhodes began as a bowling all-rounder, became a batting all-rounder before, in his final years, his bowling once more became his stronger suit. There were 58 Tests over the years. Most were before the Great War and Rhodes the bowler played a major role in England recovering the Ashes in 1903/04. It was then Rhodes the batsman, forging a famous opening partnership with Jack Hobbs, who was at the forefront of the contest when that feat was repeated in 1911/12.
England's fortunes were rather different when peace returned, and in 1920/21 Rhodes experienced the ignominy of being part of England's only 5-0 defeat at the hands of their oldest enemy in the twentieth century.  Rhodes' Ashes experiences ended on a high in 1926 however when, recalled for the final Test at 48, he played an important role in the reclaiming of the urn.
At county level Rhodes helped Yorkshire to twelve Championships over the course of his career, and on another six occasions the county finished as runners up. With a total of 1,110 First Class matches under his belt author Patrick Ferriday has plenty of cricket to describe.
Prolific writer AA Thomson published a joint biography of Rhodes and his fellow Kirkheaton all-rounder George Hirst in 1959, and a year later a book by Sidney Rogerson, an experienced writer but ordinarily on matters military, appeared. It is a little surprising that in the intervening sixty years no definitive study has appeared, although I can imagine that the size of the task in hand might have put a few budding biographers off.
When it comes to historical research Ferriday is no shirker, as he amply demonstrated in his superb book on the 1912 Triangular series. He also had two crucial allies in his quest for information about the life and times of Wilfred Rhodes. The first was a member of the very close Rhodes family unit, granddaughter Margaret Garton, and the second the redoubtable David Frith who knew Rhodes well, and met Sydney Barnes and Frank Woolley amongst others, and whose precious memories of those encounters are the closest we now have to a direct link to the 'Golden Age'.
Ferriday's  first chapter cleverly contrasts the scene of the funeral of another Kirkheaton born Yorkshire cricketer, John Thewlis, in 1900, with the penultimate Test of Rhodes' career, thirty years later, in what was then British Guiana. After that he adopts the biographer's conventional chronological approach to Rhodes' life.
The result of all the effort is an absorbing narrative, with frequent contributions from the words and writings of others, including Rhodes himself. One observer who gets an entire chapter of his own is Neville Cardus, but there are a myriad of other sources.
Despite his long career as an active cricketer Rhodes, who lived on until he was 95, had many years in retirement. Most cricketing biographies include a brief chapter or two on this period followed by, perhaps, one of reflection. Given Rhodes importance to the game it is gratifying that Ferriday does not rush through the latter 43 years of his subject's life. Before reading Wilfred Rhodes: The Triumphal Arch all I really knew of Rhodes' later years was that, after first having issues with his vision shortly after his retirement from the game, he had completely lost his sight by 1952, yet continued to actively follow the game.
I now know that after leaving Yorkshire Rhodes was appointed to a coaching position at Harrow School, and was subsequently dismissed. Is it surprising that in the 1930s a dyed in the wool Yorkshireman and one of England's leading public schools was not a match made in heaven? Perhaps not, but even at this distance in time I find Harrow's behaviour, to put it mildly, disrespectful. Less surprisingly, and rather more interesting, is the fact that Rhodes views on cricketing matters were often sought by the press in the 1930s.
It is a great shame that, his sight all but gone by the end of the Second World War, Rhodes the  observer could play no real part in the reporting of the game in his later years, but the story of those years, which saw him continue to follow cricket whilst outliving his wife, daughter and son in law, is nonetheless an interesting one.
With Wilfred Rhodes: The Triumphal Arch Patrick Ferriday has given the game's literature a long overdue definitive biography of one of its greatest names. It is an illuminating story that, importantly, succeeds in telling its reader as much about the man himself as it does about his already well documented career. The only aspect of the book that I was slightly disappointed in was the reproduction of the many fascinating images. They are a many and varied selection, but many are frustratingly small and all would have benefitted from appearing on art paper. I concede that, particularly with the family 'snaps', there may be good reason for that, but it remains the reason why the standard edition gets 4.5 stars rather than 5.
There is no such deduction for the splendid leather bound limited edition however, that half star being more than made up for by the inclusion of the signatures of Frith and Garton (but sadly not Ferriday himself) and, more pointedly, a DVD recording of an 80 minute conversation between Frith and Rhodes – 'tis absolute gold.
*These are not the traditional figures that I and many others grew up with, but in recent years there has been a reclassification of some of the matches in which Rhodes played such that his career now consists of those 1,110 First Class appearances rather than 1,107 – I have no strong views on this change, other than to make the observation that it is a great shame a further 31 runs could not be found.