The Trent Bridge Battery
Archie Mac |
Published: 1985
Pages: 208
Author: Haynes, Basil and Lucas, John
Publisher: Collins Willow
Rating: 4 stars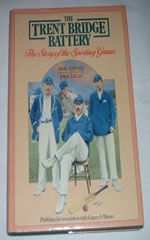 I have never been a fan of cricketing biographies covering more then one player. They become very muddled, and also usually give the majority of the story to the player achieving the most. Even biographies with two great players, such as the Waugh twins suffer from this problem.
So with this book covering four players from the same family spread over three generations; I left it sitting on the bookshelf for near on 23 years.
What a waste; I could have enjoyed this book several times over in those twenty plus years. Magnificently researched and intelligently written, it is what all cricket biographers should aim for.
The four players covered were:
William Gunn; a man who always stands out in team photographs from before the 19th century for sheer height, and even more famous for jointly creating the bat making firm of Gunn & Moore. A self made man he started poor and left a small fortune. It was surprising to find that no relatives of William are now involved in the firm. He also had the unique experience of playing and umpiring in the same Test match.
John Gunn; a nephew of William, but not as successful in business as his uncle, but a much better bowler – if not as elegant a batsman – and also a useful bat he played first class cricket for Nottinghamshire into his forties and then played for one of the most famous (and best) of all private teams that of Sir Julien Cahn, of who he made some 'coin'. John Gunn in a letter explained how he bowled to Sir Julien in the nets:
I'd bowl very slowly to him. 'you're batting well this morning, Sir Julien,' I'd say. 'Do you think so, Gunn'? he'd reply. After a while, 'Well Gunn, there's five shillings on the wicket.' More bowling. 'My word, you are batting well, Sir Julien.' Sir Julien by now mighty pleased with himself. 'There's a pound on the stumps, Gunn'. Next three balls, bang, bang, bang, clean bowled every time. 'You must have lost your concentration Sir Julien,' I'd say.
George Gunn; brother of John, he is considered one of the best players of speed bowling in the history of the game. His habit of walking down the pitch as even the fastest bowler was running in, is legendary. He also had a long career playing First Class and Test Cricket after the age of fifty. Walter Hammond wrote; 'this prince of batsman' and 'Macartney, George Gunn and Don Bradman bracket for top places in my mind as the supreme batsmen of the 1919-39 era'.
George Vernon Gunn; the son of George Gunn, George Vernon was a solid county pro, but struggled to come to terms with the fact that he could not play like his father, and was often dismissed when trying to emulate the great George. He was the only one of the four who did not play Test cricket.
The authors had access to a lot of correspondence from all of the family, and also the unpublished memoirs of John Gunn, these writings really added flesh to the bones of these old cricketers, and made for a compelling read. Highly recommended.