The Secret Cricketer: English Cricket From The Inside
Martin Chandler |
Published: 2021
Pages: 288
Author: Unknown
Publisher: Pitch
Rating: 4 stars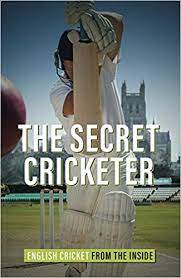 An intriguing question is, who is The Secret Cricketer? He offers plenty of clues in his book, but having  started out as the most interesting question raised by his narrative as the story and his thoughts unfold it is, as I am sure he hoped would be the case, his inside view of the county game that becomes the more important aspect of his narrative.
What is relevant to the question is that The Secret Cricketer has had a playing career that has lasted a couple decades. He was there at the start of T20, has changed county at least once, and been in sufficient demand to have secured franchise contracts and been chosen to represent England Lions. Primarily, it would seem, a top order batsman, whilst no superstar he certainly looks back on his career as being one in which he has enjoyed considerable success.
Is the cloak of anonymity important? Probably not is the answer to that one as whilst The Secret Cricketer does write about plenty of individuals that he does name, those who may well not appreciate what he has to say are afforded the same luxury of not being identified, even though most readers would like to know who they are.
The good news is that The Secret Cricketer is, as almost all who read his book will be, a cricket lover. He is a broad minded individual, ready and willing to embrace change and to recognise that not all in the county game is satisfactory. But he values the red ball game and our precious County Championship and while the odd feather or two will be ruffled by his thoughts, he is not going to make any enemies amongst the readership of County Cricket Matters.
Inevitably the knowledge of what the day to day life of a country pro is like is of interest to those of us who have never had the talent to aspire to playing the game of that level. We can, naturally, see that the life of a professional cricketer is not without its travails, but it is refreshing to read an account that is not a litany of complaints and, where criticisms are made, there are constructive suggestions to follow as to how things can be improved.
Increasingly of late cricketers have examined in print the issues that have affected their mental health. It is not an issue that The Secret Cricketer ducks and, by acknowledging that he has not suffered himself, his observations on what he has seen in others and pressure generally are all the more illuminating. Other evils that are looked at are the spectres of match fixing and racism within the game. It is comforting to know that the former seems not to be a problem in the county game, and that the latter is, amongst the players anyway, not an issue.
There is light hearted stuff here too. The quality or otherwise of dressing rooms up and down the country, the services offered by their attendants, and the dining facilities are all discussed. Spectator behaviour, cricketers' personal hygiene and off field behaviour are all entertaining. More enlightening are the views expressed on the structure of the game and, perhaps the more so because it is not looked at too often and when it is not from the perspective of a man like The Secret Cricketer, the roles of coach and captain.
The financial and other rewards available to players are another interesting issue that is tackled well. Acknowledging that he has made a decent living if not a fortune out of the game the structuring of those rewards, the way agents work and the options available to players and clubs are well explained. All in all the book is exactly as the sub title describes it, a look at English Cricket from the Inside.
So who then is The Secret Cricketer? There aren't too many options, and more than once I was convinced I'd worked out who he was only for a statement in the book to indicate otherwise, but then again a few blind alleys are only to be expected. In the circumstances whilst I have my suspicions I shall, for fear of making a fool of myself as much as anything, refrain from openly speculating.
Reading through the book reminded me of a not dissimilar one that was published as long ago as 1926, A Searchlight on English Cricket by 'A County Cricketer'. I have always know that the man who wrote that one was the by then long retired Essex amateur EHD Sewell, and although I do not know when that was disclosed I don't suppose his identity was a secret for long and I suspect we will know soon enough who The Secret Cricketer is – he must already be readying himself for the rest of his life and how he will earn his corn, so perhaps when his second book appears the helmet will come off?