The Men Who Raised The Bar
Martin Chandler |
Published: 2020
Pages: 264
Author: Waters, Chris
Publisher: Bloomsbury
Rating: 3.5 stars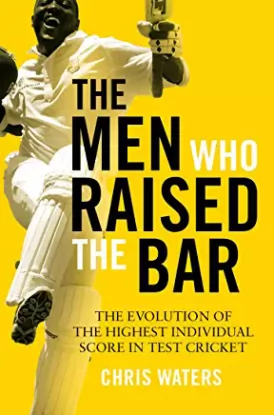 There are only so many hours in a day, so not all the books I would like to read get read as soon as I would like, and difficult decisions have to made as to what goes where in the pending pile. This  one was particularly tricky because Chris Waters is a fine writer, and much impressed myself and the Mac with his book about Hedley Verity, which we each reviewed here and here. His only other book, published a decade ago now, was an excellent biography of Yorkshire legend Fred Trueman.
So I knew the book would be well written, but I was less sure about how much the subject matter might appeal. It is a book that contains eleven chapters, one concerning each of the eleven innings, beginning with Charles Bannerman's unbeaten 165 in the inaugural Test, that represent what were, at the time they were played, the highest innings in Test history. The succeeding chapters therefore concern Billy Murdoch, 'Tip' Foster, Andrew Sandham, Don Bradman, Walter Hammond, Len Hutton, Garry Sobers, Brian Lara, Matthew Hayden and finally the current record, 400* by Lara again.
By definition each of the innings is a well known one, and each of the record holders bar Sandham has been the subject of at least one biography or autobiography. Against that background I took the view that perhaps this was one that could wait, and so it did until, a couple of days away booked, its small format made it ideal to slip into my overnight bag. As expected during my absence from home, staying in a leafy London suburb, I managed to avoid sufficient of the social activities planned for me to find the time to read the book.
A collection of studies such as this is easy to write badly. A writer can pick up a few books and dash off an accurate account of a man and his innings without too much effort. The result will almost certainly entertain the casual reader, but will be a disappointment to those who are already familiar with the events they are reading about, and we all have books like that.
It will come as no surprise however to learn that I was not disappointed by Chris Waters' reconstructions of these famous innings, nor of his short biographies of the batsmen who produced them. He has clearly gone to all the obvious sources, that much being clear from the bibliography at the rear of the book. In addition however he has gone back to all the contemporary reports of these knocks. This is particularly important in the cases of Sandham and Hammond given that Kingston, Jamaica and Auckland in New Zealand were well off the beaten track in the 1930s.
Those who have read either of Waters' previous books will know that he has that rare talent of being able to write about matches from the dim and distant past from, seemingly, his own recollection of being present at the matches concerned and that is something he relies on here in producing these immensely readable accounts of some landmark days from Test history and the men who made them.