The Judge
Martin Chandler |
Published: 2019
Pages: 314
Author: Smith, Robin
Publisher: Yellow Jersey Press
Rating: 4.5 stars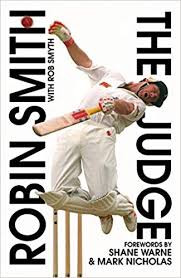 I am beginning to believe that team sports, or indeed any team activity, is probably bad for mental health. It may not be so true in the amateur ranks but for professionals, where men and women live and breathe together and are largely reliant on each other for success it seems to be the case. Take Robin Smith for example. He was an enormously popular teammate and, outside the game of cricket, a gregarious man who spent plenty of his downtime with his colleagues. The result seems to be that problems which he encountered when he left the game and was suddenly on his own eventually came perilously close to destroying him – was there cause and effect? I am inclined to think so.
Much of the contents of this book have been well publicised. Alcohol, an ever present feature in Smith's career, gradually consumed him once he no longer had the cameraderie of the Hampshire dressing room to keep him on the straight and narrow.In time he ended up sinking so low that not only did he contemplate taking his own life, he went as far as planning the way in which he would do it. Fortunately for Smith he did eventually conquer his demons and in a bizarre twist to this part of his tale ended up staying in the very hotel from a balcony of which he planned to throw himself, when some other tortured soul did exactly that. First on the scene as the terrible incident unfolded was Smith, and spending the final moments of the victim's life with her must be an experience that words could never adequately describe.
All England supporters of a certain age will remember Robin Smith the batsman, and primarily the man who is featured on the front cover of The Judge, taking evasive action against a fearsome West Indian short pitched delivery. It is a famous image captured by Adrian Murrell in 1995 at Old Trafford. Later in the match Smith was less successful in an attempt to avoid a bouncer and suffered a sickening injury to his face when struck by Ian Bishop in his pomp. The Murrell photograph however remains an abiding memory of Smith, as does the crunching square cut with which he scored so many of his runs, and he remains to this day the only cricketer whose name brings a first thought into my head of a performance in a limited overs match, the day in question being when he recorded his unbeaten 167 against Australia in 1993. It was an innings which, for its time, was an extraordinary one. The result of the match mattered not, which is just as well because England still contrived to lose that one, albeit to one of the finest cricket teams ever assembled.
The Judge is Smith's autobiography, written with the assistance of his near namesake from The Guardian, Rob Smyth. It is a book that has been rightly lauded and is yet another of those slightly uncomfortable but at the same time compelling portraits of a hero who, in truth, is as much afflicted by human frailty as the rest of us. In that sense add the name of Robin Smith to the list that already contains those of Marcus Trescothick, Graeme Fowler, Michael Yardy, Jonathan Trott, Luke Sutton and Steve Harmison. 
There is perhaps one area in which The Judge differs from the other books I have mentioned in that it is rather more of a cricketing autobiography (and a very good one) than some of them. Smith played in a difficult time for English cricket best measured by the yardstick that he averaged a highly creditable 43.67 in his 62 Tests, half of which were against the powerful Australian and West Indian sides of the era. There was plenty of controversy around and Smith's views on the England management over his career, the strengths of Mickey Stewart and the weaknesses of Keith Fletcher and Raymond Illingworth, are enlightening.
The thread that runs through the book however is the 'real' Robin Smith. The nice bloke, good mate and, despite appearances, somewhat diffident character bares all and does not shirk from, ultimately, taking responsibility for the train wreck his life became. It is to be hoped that that acceptance of his own shortcomings augurs well for him remaining in the good place that he has, with the help of his new partner and two adult children, come to occupy.
It took me a few months to get around to opening The Judge, but having done so it was a difficult book to put down, and a couple of evenings and a lunch hour later I was finished. It is a book that is difficult to fault, although I will have a moan about the lack of any sort of statistical appendix. That said credit has to be given where it is due and there are an excellent selection of photographs and a comprehensive index which future researchers will be grateful for. I am also left hoping that one day Smith's brother, Chris, will also write a book. There were only eight Tests for 'Kippy', none of them against West Indies or Australia, and a relatively modest average of 30.15.  He is clearly a very different character from The Judge, but no less interesting for that.