The Honorary Tyke
Martin Chandler |
Published: 2020
Pages: 207
Author: Blow, Thomas
Publisher: Vertical Editions
Rating: 4 stars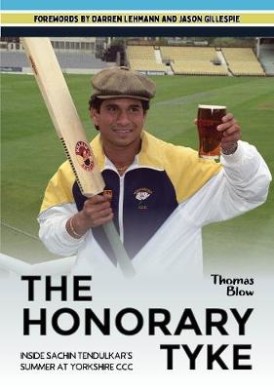 Does cricket literature need another book about Sachin Tendulkar? The answer to that one is, for the time being, almost certainly not. Another question with the same answer is as to whether or not we need another history of Yorkshire County Cricket Club. Both subjects have been written about many times by many authors and, realistically, all bases have been covered more than once.
In the circumstances it was with some trepidation that I opened The Honorary Tyke, a book that, it is clear from title and cover is concerned with both of those subjects. Its focus is the point at which the two subjects overlap, the English season of 1992 when the still teenage Tendulkar carried the burden of being Yorkshire's first ever overseas player*.
Despite those concerns I am delighted to be able to advise that far from being a tedious rehash of well worn subjects Thomas Blow's first book is an interesting and well written account that deals with an issue from cricket's not too ancient history that certainly warrants exploring.
The background is straightforward. When I was a lad and getting to grips with the joys of cricket Yorkshire were a power in the land. They could field a whole team of internationals, every man jack of them born within the county boundaries. Inordinately proud of their traditions when a Yorkshire side took the field the opposition were not infrequently beaten before they started.
The qualification rules for county cricket were, historically, never straightforward but Yorkshire's pride was that the restrictions they imposed on themselves were much stricter than those that applied to the other counties. It has to be said at the outset that Yorkshire is a big place, and it would be ridiculous for anyone to ever expect a county like, say, Northamptonshire, to be obliged to pick from within its own borders, but the game changer came in 1968 when, for the first time, the counties were able to specially register overseas players without those cricketers having to have a two year residential qualification.
Very soon the counties were allowed two overseas players, plus any others who were willing to serve a two year residential qualification period. As the 1960s moved into the 70s therefore not only did Yorkshire lose the spine of an outstanding team the other counties all started to acquire ready made top class cricketers who, importantly, didn't fear Yorkshire in the way their predecessors had done.
In the 70s, steadfastly sticking to their own rules, Yorkshire won nothing. They had no success in the 80s either and, in 1983, finished at the very bottom of the Championship. Unsurprisingly there were those who now saw a break with the proud traditions of old as a price worth paying to be competitive again, and this is the heart of Blow's story.
For the unfamiliar Blow begins The Honorary Tyke with a short but eminently readable history of the Yorkshire club, followed by a similar background chapter on the first 19 years of Tendulkar's life. The serious business starts with a chapter entitled Time For Change which looks at the ultimately successful efforts to alter the club's rules in order to allow those born outside the county to play for Yorkshire.
The traditionalists had a couple of problems. The most serious of them was that ultimately they were wrong, something made worse by their use of bluster. Blow quotes Fred Trueman and a predictable rant, but Trueman wasn't the only one by any means. If I have one criticism of The Honorary Tyke it is perhaps that the detailed reasoning of those who championed the retention of the old order is not really examined. It isn't easy to find, but does exist and was eloquently and passionately articulated by Don Mosey in an early issue of Cricket Lore. In the end Mosey did what Trueman threatened to do and gave up his membership when the issue went against him. He was wrong, but unlike most of the dinosaurs he at least set out his case, and it is one that deserves respect even if it is, ultimately, unconvincing.
The decision made the Yorkshire committee got what they wanted in Craig McDermott, a proven top quality fast bowler. Sadly however the other irrefutable fact about McDermott was that he was injury prone, and when he pulled out at a late stage Yorkshire's plans were in disarray.
In the end the replacement was Tendulkar. The teenager from Mumbai did not then have quite the status in the game that he was to acquire, but he was already something of a sensation and his signing proved to be an immensely popular one.
A match by match account of the 1992 summer, not unreasonably concentrating on the fortunes of Tendulkar, occupies about half of the book. On the field those who hoped for something Bradmanesque from the Indian starlet were to be disappointed. He scored just a single century in the First Class game and one in a List A fixture (albeit a much celebrated one against Lancashire). His First Class average was a respectable 46, but both Craig White* and Martyn Moxon headed him in the county averages. More to the point however was that the team went backwards, dropping to last but one in the Championship, just a place better in the Sunday League and making limited progress in the two cup competitions.
So what was the verdict on Tendulkar? Blow, as he should, dwells on that at some length but overall the experience seems to have been a positive one for all concerned and, of course, within a decade of Tendulkar's departure the much missed Championship pennant was to flutter over Headingley once more.
In terms of the quality of the research that has gone into The Honorary Tyke there is nothing specific from Tendulkar himself, just a few quotes from his autobiography, but in fact that matters little. What is much more important is the input of those who played with and against Tendulkar in 1992, of which there is a good deal as well as much research of contemporary reports and articles.
And what of Thomas Blow's writing? He doesn't say exactly how old he is, but I strongly suspect he was born sometime after 1992 so is, in cricket scribe terms, 'nobbut a lad'. His prose is certainly fresh, and above all his passion for the game's past as well as its present comes shining through in his writing. On the very last page of the book he expresses the hope that The Honorary Tyke will be the first of many books we see from him – I hope so too.
*As a good Lancastrian I was tempted to make a crack about Geoffrey Keighley (from good Yorkshire stock but due to an 'accident of birth' actually born on French soil), but managed to resist. More relevant perhaps is White who, having played for Australia at Under 19 level had to be registered by Yorkshire as an overseas player in 1990, so technically Tendulkar was the second Yorkshire overseas player. That much said White did of course go on to play for England and, whilst he was brought up in Australia he had been born in Morley near Leeds, so just about as Yorkshire as you can get.