The Cricket Tour of Australia and New Zealand by Lillywhite's Twelve in 1876/77
Martin Chandler |
Published: 2021
Pages: 153
Author: Gault, Adrian (Editor)
Publisher: Mitcham CC
Rating: 4 stars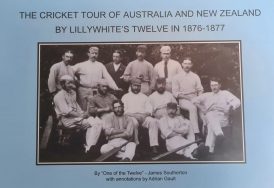 It is now 145 years since the fourth tour of Australia by a team of English cricketers took place. The twelve professional cricketers who embarked on that eight month trip were destined (although they didn't know it at the time) to play the first two matches in the continuously evolving story that Test cricket has become.
There are books on the earlier trips, all three of which involved strong sides even if, as with the men of 1876/77, they were privately organised and could not be said to be truly representative of the full strength of English cricket. The difference with the the team led by James Lillywhite was that whilst, like their predecessors, they played most of their matches against opposing sides of more than eleven, they did play three times against eleven Australians, and it is the latter two of those that are now recognised as Tests.
Naturally there was no press corps to accompany Lillywhite's men, and photography was in its infancy. We do however have a full account of the first Test, written by Stanley Brogden and first published in 1946. An Australian, Brogden was able to call upon a variety of contemporary sources in order to give a detailed account of the match. Four years later what amounts to a second edition appeared. For this book a lengthy introduction, with an English perspective, was added by John Arlott.
Part of the Arlott contribution is to provide some brief pen portraits of the players, but he makes no mention of the fact that James Southerton, the oldest man in Lillywhite's side and to this day the oldest ever Test debutant at 49 years 119 days, wrote regularly throughout the trip for The Sportsman newspaper.
Adrian Gault published a biography of Southerton in 2020 and, with the assistance of Mitcham Cricket Club in Surrey, with whom he and Southerton share a long time connection, he has edited this book, which collects together the articles that Southerton produced for The Sportsman. Some of Southerton's 'copy', naturally, concentrates on cricketing matters, but much is also there to be learned of the touring experience of long ago, something which lacked any of the pampering that today's international sportspeople enjoy.
That the account is in Southerton's own words, completely unedited and just as he wrote them 145 years ago, paints a fascinating picture if one that contains a number of references that are, to 21st century eyes, pretty obscure. It is there that Gault's annotations to the text are so valuable in explaining who some of the people mentioned are, some of the locations referenced and the meaning of some words or phrases that have not been in common usage for decades and, in the case of some, no doubt since Victorian times. Amongst other things the reader will learn what was meant by 'tooling', 'swallowing the leek' and a 'bursted meal'.
The book is produced on good quality paper and in a landscape format which lends itself to Southerton's writings occupying half of the page with, sitting alongside, a box where Gault's observations can be placed. Gault has also put together an extensive collection of illustrations which add greatly to the enjoyment of the book. It appears in a signed and numbered limited edition of 200 copies. Those do retail at a far from inexpensive £29.95 including UK postage, but on the other hand all of the proceeds will go to the Mitcham club. It can be purchased here.