The Barry Richards Story
David Taylor |
Published: 1978
Pages: 180
Author: Richards, Barry
Publisher: Faber and Faber
Rating: 2.5 stars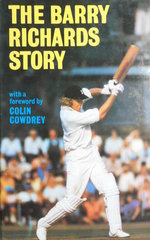 Who is the player from your earliest cricket-watching days that you're most glad of having seen? One that you caught, perhaps, right at the end of his career. When talk turns to those greats of the past that we've seen in the flesh, I'm happy to be able to say "I saw Barry Richards." It was in 1978, his last season in county cricket for Hampshire, and he played against Surrey at the Oval in the first county match I ever went to.
The records tell me that BA Richards scored 38 that day. I have to say that all these years later I have no recollection of his innings; at the time I didn't really appreciate who it was I was watching, or realise that it would be the only time I would see him play. I was more concerned with the result, as Surrey overhauled a challenging target of 238. At the end of the season he quit county cricket for good, and by the end of the year had written, or at least put his name to, this autobiography.
An attacking right-handed opening batsman, Richards was held in very high regard by Sir Donald Bradman, who once referred to him as the best right-handed opener he had seen (the Don, perhaps, I suspect, Arthur Morris even higher). Colin Cowdrey, in his foreword to this book, called him "one of the best five batsmen I have ever seen." Richards formed a highly productive opening partnership with Gordon Greenidge – not something that would have met with universal approval from those in charge of South African sport, I imagine – and also played for South Australia, for whom he hit 325 in a single day in November 1970. Dennis Lillee was one of the suffering bowlers that day and Rod Marsh was keeping wicket. "Rod always jokes that he gave a faultless performance behind the stumps because that first delivery [Richards played and missed] was the only one to pass the bat."
Perhaps his genius with the bat, and the increased public expectation, contributed to Richards' boredom and disillusionment with the county game. It certainly comes across in this slim book, in which he runs through his career, with a few good stories, but generally the feeling of sadness and frustration that he was unable to play in more than four Tests is the dominant theme of the book. At the time of writing he had just signed for Packer and was looking forward to the challenge that the 'Super Tests' would bring, but as we know that was a short-lived enterprise and apart from a few matches against 'rebel' touring teams that was pretty much the end of Richards' career.
I'm sure there is a very good book waiting to be written about Barry Richards – Telford Vice, Neil Manthorp or Colin Bryden would, I'm sure, do a good job – in the meantime it appears that this remains all that's available on an undisputed great.