The Ashes – A Celebration
Archie Mac |
Published: 2006
Pages: 424
Author: Perry, Roland
Publisher: Random House
Rating: 2 stars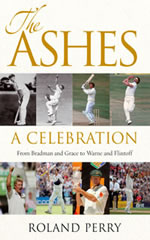 This book – from the title to the content – is, at best, misleading and, at worst, spurious.
If you are expecting a book about great Ashes battles or even great Ashes performances then you will be extremely disappointed.
In fact apart from a perfunctory dissertation of the 2005 Ashes series and a standard recount of the first Ashes Test in 1882, there is only incidental mention of the famous urn.
Unfortunately when Perry does mention the urn he tends to have his facts wrong such as "although it (the Ashes Urn) was destined never to leave Lord's again until 2006, when it would tour Australia over the period of the Ashes (2006-07)."
I think Mr Perry will find it came to Australia during the one off Test in Sydney to celebrate Australia's bicentenary in 1988. I could name at least half a dozen other examples of the author's lack of fact checking.
The author also has the annoying habit of making statements but failing to name the source of these revelations. One example should suffice; it has long been believed and often hinted that Percy Fender (Douglas Jardine's captain at Surrey) had a major hand in the development of Bodyline.
Perry makes statements in the book such as "The MCC used Fender's thirst for blood" (after Bradman had destroyed England in 1930) "Fender urged him (Jardine) to use leg theory". Perry makes it seem that Fender was the mastermind behind Bodyline.
From Richard Streeton's great book PGH Fender A Biography:
"Contrary to what some people suspected, Fender rejected the notion that he was the master-mind for Bodyline".
"Fender's denials should be accepted because he never wavered from his belief that Jardine's tactics were acceptable and he undoubtedly would have taken the responsibility for them if they had been his idea."
I was also unhappy with Roland Perry's "selection of the ten biggest impacts – events and individuals – in the history of the competition are:"
1: The 2005 Ashes
2: The Lawrence-led Aborigine tour of England in 1868
3: W.G. Grace
4: The 1882 win by Australia at the Oval
5: Bodyline
6: Don Bradman
7: The 1977 Centenary Test
8: The Packer Revolution – World Series Cricket
9: Ian Botham
10: Shane Warne
Not that I agree with any of the list, and I also understand that this is a personal selection, but still I must take exception with his second choice.
Is this a case of PC gone mad?
Apparently, according to Mr Perry, this tour inspired other teams to tour England. The first representative side to tour England from Australia was that of 1878, ten years later and everything I have ever read suggests the tour was inspired because of the momentous achievement of Australia winning an 11-a-side match against the touring English side of 1876/77 – an achievement which fails to make the Authors top Ten list.
A few facts about the Aboriginal tourists of 1868:
– They were in no way representative of Australian cricket of the time (except Mullagh)
– They were not considered good enough to play any first class matches let alone a Test Match, their strength was about the same as a good English club team.
– There is strong evidence to suggest that despite the good intentions of Charles Lawrence (white manager) the players were exploited with one dying during the tour and two others being sent home ill.
– There also seems to have been problems with alcohol and violence during the tour.
– The experience also suggests that they the players were brainwashed to a degree with Mullagh making the statement "a white woman won't have me, and I will never marry a black one".
With over a third of the book being reprinted from past writings of Roland Perry and well over half having nothing to do with Ashes cricket, this book was a big let down.
I thought Perry's last effort "Miller's Luck" was his best book to date, unfortunately "The Ashes A Celebration" is his worst.