Looking Back and Reaching Forward
Martin Chandler |
Published: 2022
Pages: 77
Author: Rodgers, Pat and Cardwell, Ronald
Publisher: The Cricket Publishing Company
Rating: 3.5 stars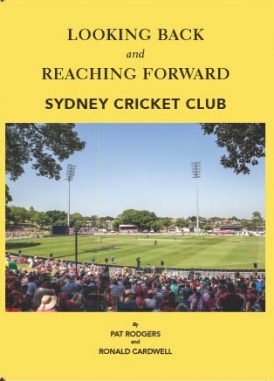 The problem with books about cricket clubs is that there are so many of them, and they tend, certainly in the UK, to be of limited interest outside their 'catchment area'. Adding to that the fact that they tend to be written by enthusiasts, often without a great deal of experience, writing ability nor, often, primary sources, makes them a genre of cricket writing I generally avoid.
But there are always exceptions, and this history of Sydney Cricket Club is certainly one of them. For a start it is the work of two excellent writers and researchers, one of whom is also a first rate publisher. That, coupled with the fact that the club that is the subject of the book is an Australian one, and this one was always going to be worth reading. Australian clubs, because of the way the game is structured there and the affiliations that all top Australian players retain with their clubs, mean their stories are always of much more than merely local interest.
The name of the club in question here, the Sydney Cricket Club, is a strangely unfamiliar one to this Englishman. I soon learned however that the this was a 125th anniversary publication of a club that, for its first 110 years, was known as Balmain, a name which was reassuringly familiar. In 2007 the Balmain club merger with the Sydney Cricket Ground Trust, and the change of name came about as a consequence of that.
There have been two previous histories of the Balmain club, taking the story as far as 1981, but whilst those would have been much more detailed accounts than this one Rodgers and Cardwell still set out as much detail as the neutral requires, and also manage to produce a couple of images of legendary former player Archie Jackson, that were new to me.
One of the most interesting aspects of all Australian clubs is the overseas players they attract and the chapter dealing with those men is as interesting as any in the book. The first was back the early 1960s, a twice capped New Zealander pace bowler (albeit born in Sydney) Ken Hough and as well as Sri Lankan Russell Arnold there have been a number of Englishmen, of whom Mike Gatting is the best known, and there are also two current England players, Ollie Robinson and Zac Crawley.
As with everything that The Cricket Publishing Company produces Looking Back and Reaching Forward has the highest production standards and is superbly illustrated. At the conclusion of the book, and for anyone wavering at this point these are the reasons to buy it, there are three excellent  biographical sketches of Test players, concerning mystery spinner Johnny Gleeson and pace bowler Dave Renneberg from the 1960s, and batter Belinda Clarke from the 1990s.