Reminiscences of Aberdeenshire Cricket
Martin Chandler |
Published: 2021
Pages: 100
Author: Miller, Richard (Editor)
Publisher: Private
Rating: 3 stars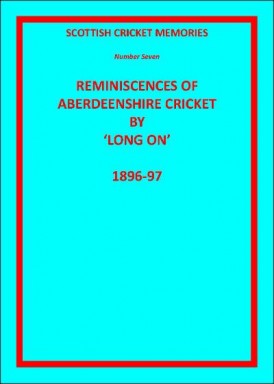 A little knowledge is a dangerous thing. I have long known that the main cricket ground in Aberdeen is at Mannofield Park, purely because one of my favourite cricket tours, that in 1948 by Don Bradman's 'Invincibles', wound up their visit there, The Don waving goodbye to the UK with, inevitably, an unbeaten century.
Because of this at some point in the past I had satisfied myself that Mannofield was in the city of Aberdeen. At that time I did not realise, although I later did after reading the first six of Richard Miller's booklets on Scottish cricket history last year, that the Aberdeenshire club that played there were not in fact a county club in the sense that county clubs are in England.
Thus, like Forfarshire and Perthshire, I opened this booklet knowing what Aberdeenshire were, a cricket club pure and simple. That said I then had reason to doubt myself for some time. Extremely helpfully Richard has reproduced on the inside of the rear wrapper of this one a map the north east of Scotland showing all of the locations the book refers to. That in Victorian times the Aberdeenshire club was not located where it is now was not necessarily a surprise, but the fact that it was the best part of forty miles away was.
But my geographical struggles are not, in the scheme of things, of great importance. What is is that Richard Miller has gathered together a series of articles that originally appeared in the Peterhead Sentinel and Buchan Journal in 1896 and 1897 under the by line of 'Long On'.
The identity of Long On was not a closely guarded secret. The man himself, Adam Dunbar, was a schoolmaster and also a prolific cricketer and a very good one. The entire booklet runs to 100 pages so, even allowing for the fact that Richard has added an appreciation of Dunbar and two obituaries as well as more than twenty photographs from his own collection there is still plenty of material.
There are no tales in this one of the doings of visiting teams or players who had made names for themselves in the First Class arena, but once again Dunbar proves to be a decent writer with plenty of interesting stories to tell on the subject of cricket in north east Scotland in the later years of the nineteenth century. Like the first seven volumes that Richard has produced this one will be of great interest to anyone with an interest in the history of cricket in Scotland.